Going Green - WEEE

WASTE ELECTRICAL AND ELECTRONIC EQUIPMENT DIRECTIVE (WEEE)
Why recycle?
Unwanted electrical equipment is the UKs fastest growing type of waste.
Many electrical items can be repaired or recycled, saving natural resources and the environment. If you do not recycle, electrical equipment will end up in landfill where hazardous substances will leak out and cause soil and water contamination - harming wildlife and also human health.
What is WEEE?
The Waste Electrical and Electronic Equipment Regulations (2006 No. 3289) (WEEE) is a UK legislation designed to address the environmental impact of waste electrical and electronic equipment.
The regulations have been put in place to ensure that products are recycled using best available treatment, recovery and recycling techniques to ensure human health and high environmental protection.
Both Digitalpromo and its customers can assist in recycling waste electrical and electronic equipment.
We cannot recycle it unless you return it, so customers have an important role to play in helping us to recycle.
(any costs incurred in returning products are NOT paid by Digitalpromo).
Digitalpromo will undertake its responsibility as a Distributor to dispose of these goods in line with European legislation.
Common WEEE questions
Look out for this symbol: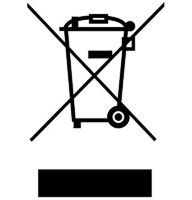 If the symbol shown here is found on any of your goods, it means that the product is covered by the WEEE Regulations.

It means that you can return waste electrical equipment to Digitalpromo on a like-for-like basis.

Therefore, if you purchases for example a new monitor, then we can only accept an old monitor back not a TV or alternative product which is not a monitor.

Alternatively take your old product to one of the nationwide WEEE recycling centres which can be located at - http://www.recyclenow.com/
How do I recycle my old products with Digitalpromo?


Have you purchased a new product WEEE product from Digitalpromo and have finished with an old one?
When you have finished with a WEEE product, please do not put in your domestic waste bin, as it will not be recycled.
Please contact us at info@digitalpromo.co.uk to arrange a convenient time for you to deliver the old item back to us and for authorisation (all shipment costs to be incurred by you and within 28 days of purchasing your new product).
Please quote your Digitalpromo order reference number and describe the item that is to be recycled so we can check for a like-for-like product being purchased.
Please carefully package any item to be returned. (all shipment costs to be incurred by you)
We will then deal with the waste product in an environmentally responsible manner, at no cost to you.
FREE IN STORE TAKE BACK - If you are passing Digitalpromo, simply drop your product off at the counter and give information (receipt or invoice) of the new product you purchased from Digitalpromo within the past 28 days on a like-for-like basis

Digitalpromo is fully committed to comply with the RoHS Directive.
The return address for recycling after authorisation of return or if you have any queries is:
Digitalpromo Ltd (WEEE)
Unit 13, Bechers Business Centre
Heysham Road
Aintree
Merseyside
L30 6UZ
Alongside these directives that Digitalpromo is legally obliged to comply to, we have developed our own environmentally friendly systems throughout the company.
Find more information on WEEE recycling, and locate your local recycling centre, at - http://www.recyclenow.com/