Gigabyte Aorus Gen 4 2TB M.2-2280 PCIe 4.0 x4 NVMe Solid State Drive
Gigabyte AORUS 2TB M.2 PCIe 4.0 Gen4 NVMe SSD / Solid State Drive
2TB Gigabyte AORUS M.2 (2280) PCIe 4.0 (x4) NVMe SSD, 3D TLC, 5000MB/s Read, 4400MB/s Write, 750k/700k IOPS
Manufacturers Code: GP-ASM2NE6200TTTD
EAN: 4719331805791


2TB AORUS M.2 NVMe Gen4 Solid State Drive

Bringing Forth The PCIe 4.0 Era

Introducing the new Gigabyte AORUS M.2 PCIe 4.0 x4 NVMe SSD, featuring the world first PCIe 4.0x4 Controller, Phison PS5016-E16 controller, made by 28nm manufacturing technology. The full body copper heatsink provides a thermal solution for outstanding PCIe 4.0 SSD performance. This compact form factor of 2280 also features Toshiba BiCS4 NAND Flash. AORUS NVMe Gen 4 SSD delivers blazing speeds: up to 5,000 MB/s for sequential read, and up to 4,400MB/s sequential write.

2TB M.2 PCIe 4.0 NVMe 1.3 Storage 2280 : 5000 / 4400 MBs Maximum Read / Write : 750K / 700K IOPS Random Read / Write

World First PCIe 4.0x4 Controller




Adopting The Latest 3D TLC NAND Flash

Introducing the World First PCIe 4.0x4 Controller, Phison PS5016-E16 controller, made by 28nm manufacturing technology. The cutting-edge fabrication process guarantees PS5016-E16 has enough compute power for ECC processing when implementing the latest 3D TLC NAND flash. PS5016-E16 also features eight NAND channels with 32 CE targets, DDR4 DRAM caching, and a PCIe 4.0x4 interface. As for features, the chip supports the NVMe 1.3 protocol, LDPC error correction, and Wear Leveling, Over-Provision technologies to improve reliability and durability of SSDs.

Related Solid State Drives from Gigabyte AORUS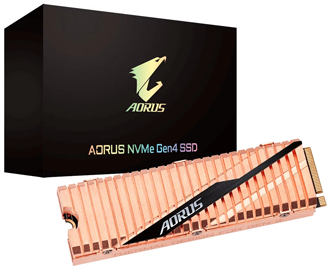 Gigabyte AORUS NVMe Gen4 Solid State Drives are completely portable and it's light to take your files on-the-go.

Efficient Copper Heat Spreader Design




Improved Thermal Transfer

Compared with a plated M.2 heat spreader, new efficient copper heat spreaders with 27 fins add more surface area which improve thermal transfer from heating sources to obtain thermal balance sooner. Moreover, Optimized fin array design does great heat exchange with any direction of air flow. Both unique design makes sure key components of PCIe 4.0 SSD to keep suitable working temperature under ultra-high transfer rate. Higher working temperature may cause data loss and the degradation factor of data loss could be a hundred times higher. With Full Body Copper Heat Spreaders, the AORUS NVMe Gen 4 SSD can operate at lower working temperatures to improve data storage reliability. Furthermore, SSDs can deliver extreme performance for longer periods.

Check your SSD's Health Using the Tool Box




Monitor The SSD's Status With Ease

The freshly restructured SSD Tool Box is an innovative application that assists users by monitoring SSD Status, providing general information such as model name, FW version, health condition, and it also identifies sensor temperature. Furthermore, users can clear all the data with the Secure Erase function.

Advantages of the AORUS NVMe Gen4 SSD



High Quality Performance With Toshiba

Toshiba BiCS4 NAND Flash optimizes circuitry and architecture by increasing to 96 layers for higher storage space per unit area. 800MT/s throughput on the AORUS NVMe Gen 4 SSD far exceeds that of PCIe 3.0x4 devices for superior storage performance.

Storage Performance With The New PCIE 4.0 Controller

AORUS NVMe Gen 4 SSD delivers blazing speeds: up to 5,000 MB/s for sequential read, and up to 4,400MB/s sequential write. Sequential Read performance of PCIe 4.0 SSDs is up to 40% faster than PCIe 3.0 SSDs. Get ready to enter the next generation of computing with faster and smoother, gaming, streaming, and graphics intensive rendering.

Thermal Solution For Outstanding PCIE 4.0 SSD Performance

The Full Body Copper Heatsink takes into account the heat transfer from key components on both the front and back of the device, the controller and NAND Flash. Full copper heatsinks have 69% higher heat transfer capacity compared to aluminium heatsinks giving AORUS NVMe Gen4 SSD the best heat dissipation for read/write performance.

Guaranteed Quality from High Standard Testing

5 Year Warranty For Peace Of Mind

Extreme performance comes from high standard testing and the AORUS NVMe Gen4 SSD comes with a limited 5-Year warranty, Phison PS5016-E16 Controller, high quality 3D NAND TLC Flash Memory from Toshiba, and external DDR4 cache with PCIe 4.0 x4.


Specifications

Capacity 2TB
Edition AORUS NVMe Gen4 SSD
Form Factor M.2 (2280)
Height 11.4 mm
Interface PCIe 4.0 (x4)
Host Controller Interface NVMe 1.3
Controller Phison PS5016-E16
Flash Memory Type Toshiba 96-Layer 3D TLC NAND Flash
Max. Read 5000 MB/s
Max. Write 4400 MB/s
DRAM Cache Memory 2GB
DRAM Cache Memory Type DDR4
Max. Random Read 4K 750,000 IOPS
Max. Random Write 4K 700,000 IOPS
Latency N/A
Special Features

Full Body Copper Housing
LDPC ECC
Over-Provision
S.M.A.R.T Support
TRIM Support
Wear Leveling

Power Consumption (active) 6.5W Read, 6.6W Write
Max. Endurance Rating 3600TBW
MTBF 1,770,000 Hours
Max. Operating Vibration
Max. Non-operating Vibration
Max. Operating Shock
Max. Non-operating Shock
Connectivity 1 x M.2 (PCIe)
OS Support
Bracket N/A
Dimensions 80.5 x 11.4 x 23.5 mm (WxHxD)
Weight
Package Type Retail
Additional Information
Scan Code LN99844
Model Number GP-ASM2NE6200TTTD
GTIN 4719331805791




Questions:
There are no product questions yet.
Please login to your account to post a question
Leave a comment