GameMax Razor USB Optical RGB Gaming Mouse
GameMax Razor Gaming Mouse, 800-6400dpi, 8 Buttons, Wired, USB
Manufacturers Code: GMX-MS-RAZOR
EAN: 5055492408501




GameMax are proud to introduce the Razor RGB Gaming mouse. The Razor is an 8D optical mouse equipped with excellent cursor accuracy and pixel point perfection. Excellent RGB lighting modes run all around the bottom of the mouse. The body includes 17 hexagon cut outs and several different colour modes included create a fantastic gaming atmosphere.

The Razor comes with 6 preset DPI settings: 800-1600-2400-3200-4800-6400, with a max. DPI of 6400 enables faster and more precise swipes offering greater control. Multiple DPI settings ensures gamers have a setting for any situation or style of play.

The Razor is designed with aesthetics in mind and performance at the heart of it. The mouse has a great shape to give gamers the most comfortable gaming experience allowing for a more precise positioning

In line with the GameMax ethos this case offers style, performance and the ultimate experience.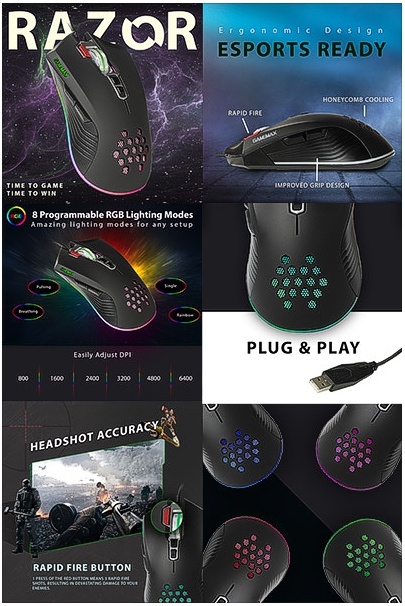 Features

Design
The GameMax Razor is ergonomically designed to fit perfectly into your hand, materials used are sweat resistant which increases comfort during long game play.

RGB Backlighting
The Razor comes with multiple RGB colour options that light the edge and the body of the mouse. The Razor comes with approximately eight different colour modes including single colour, breathing, pulsing and rainbow etc. You can personalise your mouse the way you want.

On-The-Fly-Adjustable-DPI
The Razor comes with six DPI presets 800-1600-2400-4800-6400DPI which are accessible to change to suit your current game play needs.

Precision & Performance
Want a gaming mouse with excellent accuracy and performance, now you can with the Razor it has a DPI setting of up to 6400, this type of resolution is normally seen on higher end mice.

USB Connection
The Razor comes with a USB connector, plug and play and with a 1000 millisecond report rate, the Razor communicates as fast as USB can go.

Braided Cable
The USB connector comes with braided cable offering excellent durability and will last a lot longer then a standard cable.

Specifications

Connectivity: USB
Button Qty: 8 Buttons
LED Colour: RGB
Material: ABS
Cable Length: 1.5m
Resolution: 800 / 1600 / 2400 / 3200 / 4800 / 6400
Button M.T.B.F.: 5 Million Keystrokes
Maximum Accleration: 12G
Mouse Type: Optical Gaming Mouse
Mouse Grip: 4000fps
On-Sensor Code: Sunplus 199IC
Maximum Tracking Speed: 32 Inch/Second
Polling Rate: 125HZ
Working Power: 50mA
Working Voltage: 5V
Working Current: 50mA (max.)
Software Compatibility: Windows 2000 / XP / Vista / 7 / 8 / 10
Net Weight: 156g

General Specifications

Manufacturer Part Number: GMX-MS-RAZOR
EAN Number: 5055492408501
Has Mains Plug: No
Colour: Black
What's In The Box: Mouse
Manual
Unit (Product) Dimensions (mm): 65mm x 41mm x 128mm (W x H x D)
Packaging Dimensions (mm): 165mm x 205mm x 55mm (W x H x D)
Net Weight (KGs): 0.16 KGs
Gross Weight (KGs): 0.28 KGs
Questions:
There are no product questions yet.
Please login to your account to post a question
Leave a comment