XFX AMD Radeon RX 5700 XT THICC III Ultra 8GB GDDR6 RDNA PCIe 4.0 Graphics Card
XFX Radeon RX 5700 XT THICC III Ultra 8GB GDDR6 PCIe 4.0 Graphics Card, 7nm RDNA, 2560 Streams, 1810MHz, 2025MHz Boost
Manufacturers Code: RX-57XT8TBD8
EAN: 778656077966




AMD RX 5700 XT THICC III ULTRA Graphics Card by XFX



The Big One

Introducing the RX5700 XT THICC III GPU from XFX. Built to give you the very best FPS that the 5700 XT can deliver. Thanks to the style and dynamic cooling power that XFX have designed to bring you lower temperatures and heightend performance that adapt to the intensity of the moment. This THICC III GPU boasts 2x

90mm fans and 1x 100mm fan, dual-BIOS, a copper heatsink and auto load sensing fans and whats more this GPU is also powered by the latest generation of the advanced 7nm RDNA Architecture from AMD taking 1080p gaming to all new heights with ultra-responsive, high fidelity triple A gaming with up to 60 frames

per second and eSports gaming with up to 90 frames/sec and because of the additional compute units you can expect optimised visual and performance benefits including blur effects, volumetric lighting and multi-level cache hierarchy giving you blisteringly fast response times.




Brand New RDNA Architecture with 7nm Process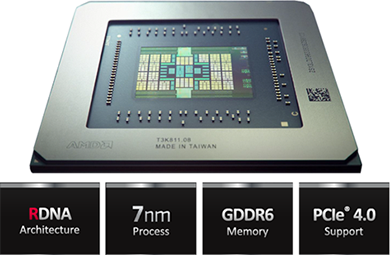 Reduces latency and provides higher bandwidth

Powered by the groundbreaking 7nm RDNA architecture with Radeon™ Image Sharpening and Radeon™ Anti-Lag technology, Radeon RX 5700 XT GPU delivers extremely efficient, ultra-responsive, high-fidelity gaming for immersive explosions, physics, and lighting effects, bringing realism to life. Take your gaming

experience to the next level. You can experience stutter-free, tear-free gaming, reduced input latency and day-0 drivers optimized for new game releases.

Featuring GDDR6 Memory and Compatiblity with PCIe 4.0




Super-fast performance for todays demanding titles

Equipped with 8GB of advanced GDDR6 memory to provide high bandwidth of up to 224 GB/s, enabling 1080p performance for today's most demanding games. Radeon RX 5700 XT features PCI® Express 4.0 support, which enables two times the bandwidth compared to PCI Express 3.0.
Get ready for the next generation of PC gaming.

Power When you Need It, Quiet When you Don't




XFX Zero DB Auto Load Sensing Fans

XFX fans are designed to run at the highest possible performance, whilst their Zero DB Fan System will also keep your fans running at an efficient RPM when GPU load has been reduced this will reduce fan vibration and will also increase fan lifespan.

High Fidelity Graphics When you Need it Most




Fidelity FX

The AMD Radeon™ RX 5700 XT graphics card powers high fidelity gaming for immersive explosions, physics, and lighting effects,bringing realism to life. High-performance RDNA architecture was engineered to greatly enhance features like FidelityFX, Radeon™ Image Sharpening,and Integer Display Scaling for

maximum performance and beautiful gaming experiences.

Intuitive Gaming Features




Adrenalin 2020

AMD Radeon™ Software Adrenalin 2020 Edition gives you more control over your gaming experiences. The software's intuitive interface enables players to stream, share and tweak graphics settings in real-time without missing a second of the action or compromising in-game performance.

AMD VR Ready Premium

Experience the new generation of compelling Virtual Reality content with the Radeon™ graphics card paired with the leading VR headsets. The Radeon™ card coupled with AMD LiquidVR™ technology delivers a virtually stutter-free, low latency experience, essential for remarkable Virtual Reality environments. Industry

leading innovation and powerful performance enables the Radeon™ to deliver premium experiences on high-end VR games, entertainment, and applications.

AMD Eyefinity

TechnologyExpand your territory and customize your field of vision. Connect up to six displays on a single GPU for dynamic, panoramic multi-screen gaming. You'll get an expansive experience that's truly out of sight. (additional displays may require the use of MST hub). ‍

Specifications

Chipset Radeon RX 5700 XT
Edition THICC III Ultra
Manufacturing Process 7 nm
Microarchitecture RDNA

Cores & Clocks
Streams 2560
Core Clock 1810 MHz
Boost Clock 2025 MHz

Video Memory (VRAM)
Memory Size 8GB
Memory Type GDDR6
Memory Clock 14000 MHz
Memory Speed (Effective with DDR)
Memory Bus 256 Bit
Memory Bandwidth
Memory Data Rate

Cooling
Cooling Solution Tri Fan (3)
Cooler Design XFX THICC III Triple Fan
Fitted/Included Backplate Yes

I/O & Connectivity
Interface PCIe 4.0 (x16) [PCIe 3.0 Backwards Compatible]
Connectivity

3 x DisplayPort 1.4
1 x HDMI 2.0b

Visuals
AMD CrossFire Support 2-Way CrossFire
AMD Freesync Support Yes
AMD FreeSync Version FreeSync™ 2 HDR
HDR Support Yes
Microsoft DirectX Support 12 API
Max. Concurrent Displays 4 Displays
Maximum Digital Resolution 7680x4320 (8K UHD)
Maximum Analog (VGA) Resolution

Compute Performance
Peak Half Precision Compute Performance (FP16)
Peak Single Precision Compute Performance (FP32)
Peak Double Precision Compute Performance (FP64)

Power & Thermals
Graphics Card Power Connectors 2 x 8-pin PCIe
Graphics Card TDP/Power
Minimum Recommended PSU 600 W
Maximum GPU Temperature

Physical
Width 2.75 Slot
Low Profile Support
Dimensions 315 x 131 x 57 mm
Package Type Retail

Additional Information
Model Number RX-57XT8TBD8
GTIN 778656077966








Questions:
There are no product questions yet.
Please login to your account to post a question
Leave a comment