Frequently bought together
Customers who bought this product also commonly purchased the following combination of items.
TechTribe X96 Android X4 S905X PLUS Quad Core 4K Ultra HD Smart TV Media Player with KODI 17.4
TechTribe X96 Android X4 S905X Kodi 17.4, Quad Core CPU, 1GB DDR3 RAM, 8GB Storage, MicroSD
Original X96 Amlogic S905X Quad Core Android 6.0 TV Box 1G / 8G KODI 17.4 4K Smart Android X4 Ultra HD TV Box from TechTribe
Manufacturers Code: TTX96S905X1/8
EAN: 0641243390437
Kodi 17.4 Krypton
Android 6.0.1 Marshmallow
Faster Speed and Response
4K Resolution
Faster S905X Quad Core Chipset (X4)
Penta-core Mali-450MP GPU


TechTribe X96 Android 6.0 TV Box can changes your traditional TV or LCD Monitor into a multimedia center by connecting the Internet (Via WiFi or RJ45), just like a giant Tablet PC.
It can combine the Internet and the traditional TV to build a new entertainment system, letting you can greatly enjoy videos, music, photos, etc. In your free time, picking up your favorite games or choosing the wonderful movies and enjoying them on the big screen.
No matter for your own or your whole families, this TV box can become a nice device for leisure.
You will always remember the best time with it.

Features:

Advanced OS & High-performance Configuration
Comes with Android 6.0 OS, powered by High-performance Amlogic S905X Quad Core 64 bit Cortex-A53 CPU, includes a Penta-Core Mail-450 GPU that can reach speeds of up to 2.0GHz Ultra high frequency, more than 4 times performance improvements.

High-performance
KODI 17.4 is loaded and unlimited films, music, videos, play TV and more are awaiting you. Besides, plenty of free applications are prepared. Save you time and trouble to download them. In addition, 1GB RAM/8GB ROM and storage extension up to 64GB can allow you to more smoothly browse website, play games, run APPs, watch movie and give you more space to download more APPs, movie, music, game, etc for your entertainment and leisure. No need to worry about the memory space.

H.265 High Efficiency Video Coding
Bandwidth saving Lifting speed: H.265 hardware decoding can save 50% bandwidth resources, let you watch the 4K movie smoothly. 4K 1080i/P resolution is 4 times of full HD, so every detail of the screen is lucidity.

UHD 4K Resolution
4k * 2k H.265 hardware video decode and 4k * 2k output with 100Mbps cable network offer you high definition picture and fluently video playing. Say goodbye to the freezing and buffer.

Wireless Transmission & Multi-language Support
Strong 2.4G Wi-Fi ensures transmitting strong signal in high quality and high speed. Also supports OSD type of languages: Chinese, English, French, Spanish, Germany, Russian, Italian, Japanese, Korea, etc. Multi-languages Supported.

Specification:

X96 Model
TechTribe X96 TV BOX

Operating System
Android 6.0 Marshmallow

CPU
Amlogic S905X Quad Core ARM Cortex A53 64bit

GPU
Penta-core Mali-450MP GPU - 750MHz
RAM: 1GB
ROM: 8GB

Extended Storage
Support MicroSD(TF) ,Up to 64GB

Wifi Connectivity
IEEE 802.11 b/g/n 2.4G WIFI

Ethernet
10/100M

Bluetooth
Not Support

Language
English/French/German/Spanish/Italian, etc. multi-languages

Video
* AMLogic video Engine(AVE)with dedicated hardware decoders and encoders
* Supports multiple "secured"video decoding sessions and simultaneous decoding and encoding
* Video/Picture Decoding
-VP9 Profile-2 up to 4K*2K@60fps
-H.265 HEVC MP-10-L5.1 up to 4K*2K@60fps
-H.264 AVC HP-L5.1 up to 4K*2K-30fps
-H.264 MVC up to 1080P-60fps
-MPEG-4 ASP-L5 up to 1080P-60fps(ISO-14496)
-WMV/VC-1 SP/MP/AP up to 1080P-60fps
-AVS-P16(AVS+) /AVS-P2 JiZhun Profile up to 1080P-60fps
-MPEG2 MP/HL up to 1080P-60fps
-MPEG1 MP/HL up to 1080P-60fps
-RealVideo 8/9/10 up to 1080P-60fps
* Low latency 1080P H.264 60fps encoder
* HDR10 and HLG HDR Video Processing
* Supports *.mkv,*.mpg,*.wmv,*.mpeg,*.dat,*.avi,*.mov,*.iso,*.mp4,*.rm and *.jpg file formats
* Video/Picture Encoding
-Independent JPEG and H.264 encoder with configurable performance/bit-rate
-JPEG image encoding
-H.264 video encoding up to 1080P@60fps with low latency

Audio
Low power MediaCPU with DSP audio processing
Supports MP3,AAC,WMA,RM,FLAC,Ogg and programmable with 7.1/5.1 down-mixing
Built-in stereo audio DAC
Built-in SPDIF/IEC958 and PCM serial digital audio input/output
Supports concurrent dual audio stereo output with combination of analog+PCMo or I2S+PCM

Picture Supported
HD JPEG / BMP / GIF / PNG / TIF

HDMI Port
HDMI 2.0 up to 4K, 1080p

Applications
Browse all video websites,support Netflix, Hulu, Flixster, You Tube, etc.
Apps download freely form android market,amazon app store etc.
Local Media playback,Support HDD, U Disck ,SD/MMC Card .
Support SKYPE video call ,MSN , facebook ,twitter ,QQ etc
Support Email,office suit etc.
Support DLNA function
Support 2.4G wireless mouse / keyboard

Button & Ports
2* Standard USB
1* HDMI
1* AV OUT
1* OPTICAL
1* RJ45
1* TF CARD
1* DC Jack
Power management
Adapter 5V 1.5A,2A Max
Package Contents
1 x X96 tv box
1 x Instruction Manual & BOX
1 x Infrared Remote Control powered by 2 x AAA batteries ( not included ).
1 x HDMI Extension Cable
1 x Power adapter (UK AC Adapter)

Warranty
1 Year RTB Manufacturers Warranty - Software installation such as bad Apps or user damage are not covered by manufacturers warranty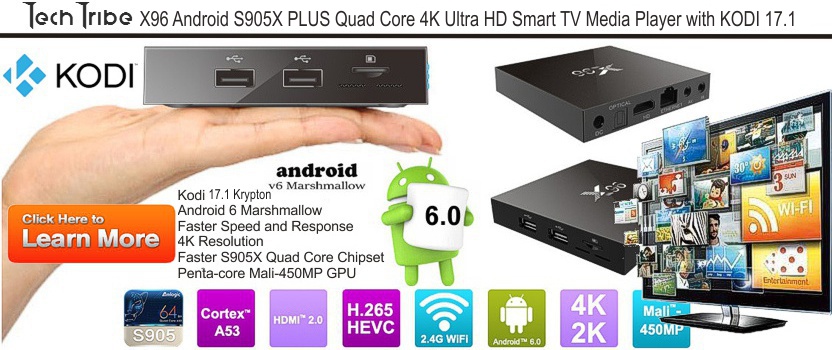 LEGAL DISCLAIMER

When it comes to Android TV Boxes and Kodi Addons, things can get a little complicated regarding legality. This page is intended to clear things up.

Is the TechTribe Streaming Box Legal ?

Absolutely. The Techtribe Streaming Box is simply an Android TV Box. It connects to your TV and turns your TV into a Smarter TV, utilizing the Android platform. The Android Operating System is probably the most popular OS in the world. It allows you to do so many things, including; Downloading games and apps from the Google Play store (or from third parties), this means you can play Angry birds on your TV! As well as signing into your email accounts, Facebook and more (and receiving notifications onto your TV). Plus a lot more!

Even though the Techtribe Streaming Boxes are capable of many things, we tend to advertise the streaming part of it more. The reason for this is because streaming has become the next big thing. People are looking to cut the cords, big ugly antennas and dishes, as well as the bills. Android TV Boxes are capable of doing so, legally. The boxes are capable of utilizing NetFlix and other streaming services, as well as third party addons in the Kodi platform.

What about Kodi, is this software legal?

Kodi is 100% Legal to install and use!
Kodi is a popular Media Library for Android. It allows you to import your own digital media files, through your network storage media and presents them in an elegant fashion with fan art, cover photos and descriptions. It also has the capability of doing the same with online media sourced through the internet. Kodi is open source and capable of being installed onto any Android TV Box. Third party developers have created apps to use within Kodi. Team Kodi is not affiliated with third party apps in their platform. (The same way that TechTribe is not affiliated with any third party apps created for the Kodi platform). Kodi is 100% Legal to install and use.

Techtribe advertises Streaming

It is important to note that TechTribe Streaming Boxes do not come "pre-loaded" with any third party apps, channels, movies or content what so ever.
The reason for this is because TechTribe simply cannot analyse, test or find out whether the THOUSANDS of third party apps within the Kodi platform are authorised to retrieve the media they find on the world wide web, it's simply not possible. It is not TechTribes responsibility, nor in TechTribes control, to know whether the media that a third party app found on the public domain is authorised for viewing. We are not affiliated with such services or apps. That's why we don't pre-install them onto our devices. Instead, users are able to download and install (at their own discretion) third party apps into the third party Kodi app for Android, through a third party "wizard installer".

TechTribes advertising includes media content
Our advertising usually consists of media coming from sources such as FilmON.tv (whom provides free and legal channels from around the world (such as BBC), as well as movies and tv shows). Our advertising may also include content of which is coming from legal free to view (on-demand) services, from providers such as YouTube, TENPLAY and more. Our advertising may also include content such as streaming (paid) movies from NetFlix for Android or free streams from other third party apps. The advertising simply shows what you can do with your Android TV Box.

What about the third party apps in Kodi
Some third party apps which the user can install into Kodi search the public domain (public internet) for streams. The same way that if you were to search Google for "example tv show "or "music video stream" and click and watch the content that Google retrieved for you. The stream could infact be hosted on Google Video, YouTube, Daily Motion or other online hosts. Therefore in searching the public domain for streams, you are accessing media which is readily available to the public already on a PC, laptop or mobile phone (literally any device you own which has access to the internet). It is assumed that this is absolutely LEGAL. For example, if you were to search a "Tube" website for adult content, you will be given thumbnails of videos which were found and available for you to stream. You, as a user, are not required to contact the website, uploader, or host and have them send you authorization documents BEFORE you click on that stream or video (in fact even if you did request these, you probably wouldn't receive a response). It is the responsibility of the website and host to ensure that they are not hosting any content which they do not own or which infringes copyright. It is the responsibility for content owners to take down content from unauthorized sites. Billions of people all around the world use their internet to search for streams and media content to view. To our knowledge, there has never been a case from anywhere around the world, which states that simply searching the internet and clicking on an available stream is illegal. To our knowledge, it is only illegal to share, contribute or download and save content which you do not own. Even though the TechTribe Media Box don't come pre-installed with these third party addons, if you as a user decided to install third party Kodi addons onto your device through a third party wizard, those third party addons DO NOT store any content, you are NOT saving any media, you are NOT sharing any content, they do NOT use the P2P protocol, and you are NOT doing anything illegal, unless the third party addon has been specifically designed to obtain pay per view or latest copyrighted / unreleased material not in the public domain, this is now illegal to stream after an European Court case (see link at bottom)! Otherwise you are simply viewing what you could already be viewing on your mobile phone or PC's browser by searching Google, but instead, you're doing so on your TV.

Furthermore, some third party Kodi addons do not search the world wide web for streams. Some of them are linked to official sources whom provide free and Official legal to view content. Other third party add-ons which scrape the internet for streaming sources are commonly referred to as "a grey area" and that's why TechTribe does not install any third party addons onto our devices. Users should install third party addons at their own discretion.

Latest Kodi Box UK News for SOME Addons as discussed above:

http://www.express.co.uk/life-style/science-technology/797734/Kodi-Ban-European-Court-Ban
Questions:
Posted by
, Monday, 19 June 2017
Question:
Having problems with my cyclone x4 smart android tv box is there a way u an hard reset the box to fresh start
Answers:
Posted by

on Monday, 19 June 2017

Hi, Kelly If you keep pressing the press the contents button (looks like 3 lines usually under the power button). then power the unit keep pressing the button and is should take you to a menu from there you can do a factory reset. little guide on the sumvision site just ignore the file copying part as you are only resetting it http://www.sumvision.com/product/cyclone-androidx4/x4support.html
Please login to your account to post a question
Leave a comment