Techtribe Starlight Gaming PC with Quad Core Intel i5, 120GB SSD, 2TB HDD, 16GB RAM, RGB Case, Win 10 Home
Techtribe Starlight Gaming PC with Quad Core Intel i5 , Gigabyte Gaming 3 Mobo, 120GB SSD, 2TB HDD, 16GB RAM, RGB Case, Win 10 Home
Manufacturers Code: TTSTAR4670K
EAN: 0641243390727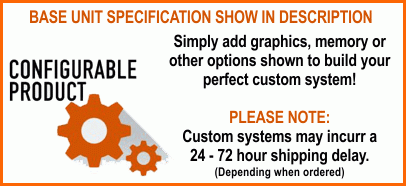 Techtribe Starlight Gaming PC
Intel i5-4670K Overclocked Quad Core CPU
Corsair 16GB DDR3 1600MHz XMS3 Memory Module ( 2 x 8GB )
Gigabyte GA-Z97X-Gaming 3 Socket 1150 VGA DVI HDMI 8 Channel Audio ATX Motherboard
Gigabyte 120GB 2.5'' SATA III SSD / Solid State Drive
Toshiba 2TB SATA Hard Drive
Xilence 600w Builder Power Supply
Windows 10 Home Edition




This is a fantastic Powerful gaming machine as it is, but some may want to add "extras" to make it their perfect machine, especially graphics for those AAA Games!.
Simply add the extra components you may require, from the options shown.
REMEMBER - there will be as little delay as possible in shipping (24-72 hours), as we take time and care to build your perfect system.
Game-Changing Performance. Unleashed


No limitations - get more with Intel

Core i5-4670K 3.4GHz is a high-end CPU based on the 22nm, Haswell architecture.

It offers 4 Physical Cores (4 Logical), initially clocked at 3.4GHz, which may go up to 3.8GHz and 6MB of L3 Cache.
Among its many features, Turbo Boost and Virtualization are activated and the processor has multiplier unlocked.

The processor integrates powerful Graphics called Intel HD Graphics 4600, with 20 Execution Units, initially clocked at 350MHz and that go up to 1200MHz, in Turbo Mode which share the L2 Cache and system RAM with the processor.
Both the processor and integrated graphics have a rated board TDP of 84W.

This all adds up to a kick butt CPU!

Turbocharge your adrenaline with Techtribe range of Gaming PC's. Designed to deliver the ultimate gaming experience that will satisfy even the most hard-core gamers out of the box. Every PC is tailor-made to deliver stunning visuals, ultra-fast response times and crystal clear audio.

Built to the highest standards by our winning team, the Techtribe Starlight Gaming PC features the Intel Core i5-4670K 3.4GHz is a high-end CPU for fantastic performance. In addition to 16GB of Corsair 16GB DDR3 1600MHz XMS3 Memory, a top end Gigabyte GA-Z97X-Gaming 3 Motherboard with a massive 2TB hard disk for storage and a 120GB SSD for the operating system, giving faster boot up times and all this in a stunning looking RGB Chassis with glass side and RGB lighting to the front and rear for that ultimate look.
NOTE: ALLcomponents are brand new, not refurbished / second hand components!

Techtribe represent the last word in quality and reliability. Techtribe build thousands of systems every year and are confident that their reputation speaks for itself.

The Starlight Gaming PC is pre-built and ready to ship for next-day delivery and comes with Windows 10 Home pre-installed and a one-year return to base warranty.

Whats in this system ....

Techtribe Starlight Gaming PC
Game Max Starlight RGB Strip, Glass Side Panel Gaming Case
Intel i5-4670K Overclocked Quad Core CPU
Corsair 16GB DDR3 1600MHz XMS3 Memory Module ( 2 x 8GB )
Gigabyte GA-Z97X-Gaming 3 Socket 1150 VGA DVI HDMI 8 Channel Audio ATX Motherboard
Gigabyte 120GB 2.5'' SATA III SSD / Solid State Drive
Toshiba 2TB SATA Hard Drive
Xilence 600w Builder Power Supply
Windows 10 Home Edition

Professionally Built PCs vs Self-Built

Anyone can build a PC, so what really makes the difference between any old PC and a Techtribe PC?
For starters, our technicians have been designing and building PCs for years, so we have a huge amount of experience in building highly reliable systems that deliver the most performance for your budget.
These are the benefits you receive when buying a professionally built Techtribe system versus building a system yourself.




Questions:
There are no product questions yet.
Please login to your account to post a question
Leave a comment