Customers Who Bought This Item Also Bought
select all
Techtribe Raider White Gaming PC with Six Core Intel i5 8th Gen, GTX 1050Ti Graphics, 120GB SSD, 1TB HDD, 8GB RAM, RGB Case
Techtribe Raider Gaming PC with Six Core Intel i5 8400 , Nvidia GTX 1050Ti Graphics, 120GB SSD, 1TB HDD, 8GB RAM, RGB Case
Manufacturers Code: TT-WRAID840G50TI
EAN: 0641243390840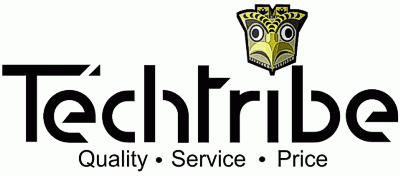 Techtribe Intel i5, GTX1050Ti Raider Gaming PC
Processor: Intel Core i5 8400 Six Core Coffee Lake 2.8 GHz Desktop CPU
Memory: 1 x 8GB 3000 MHz DDR4 Memory
Storage: 1TB 7200RPM HDD
SSD Storage: 120GB SSD
Graphics: GTX 1050Ti 4GB Graphics Card - HDMI, DVI & DisplayPort
OS: No O/S (Operating System)
Windows 10 Home 64 Bit is installed for testing but NOT Activated!

Game-Changing Performance. Unleashed.

TechTribe Raider White Gaming PC
The Raider White Gaming PC is part of the latest range of Coffee Lake based RGB gaming rigs to be unveiled by TechTribe. Tailor-made with the industry's most ground-breaking hardware to deliver ultra-fast response times, cliff hanging visuals, and crystal clear audio that will satisfy even the most hard-core gamers out of the box.

TechTribe is manufactured and supported in the UK and has built its reputation on delivering excellent quality, service and support.

8th Gen Intel® Core™ Technology
Central to this TechTribe PC is the 8th generation Intel® Core™ i5-8400 SIX Core Processor bringing powerful performance and seamless computing. Experience fantastic entertainment and gaming, seamless 4K Ultra HD, and 360 video.

Powered by NVIDIA® Graphics
Everyone deserves great gaming. That's why NVIDIA® created the fast, powerful GeForce® GTX 1050 Ti. Now, you can turn your PC into a true gaming rig, powered by NVIDIA Pascal™ - one of the most advanced GPU architecture ever created. It's loaded with innovative NVIDIA Game Ready technologies that let every gamer experience the latest titles in their full glory.

Memory and Storage
TechTribe have loaded this PC with 8GB 3000MHz DDR4 RAM that delivers blazing fast performance and a high capacity 1TB hard drive that gives you masses of storage space - enough for around 17,000 hours of music, 40 days of video or 300,000 photos and finally a generous 120GB SSD for fast boot times and your most important files.

Operating System
From the best casual games to a new generation of PC gaming, Windows 10® gives you more ways to play.
We sell this system without Windows 10 being activated (NO O/S) as we have had this request from many customers who have a retail version of Windows and don't want to pay for another license, therefore we have installed Windows 10 Home 64Bit and all drivers for testing the hardware BUT it has not been activated.
Should you require this activating you will require a license code, we can supply this at extra cost .... https://digitalpromo.co.uk/microsoft-windows-10-home-64-bit-oem.html




No limitations - get more with Intel

Turbocharge your adrenaline with Techtribe range of Gaming PC's. Designed to deliver the ultimate gaming experience that will satisfy even the most hard-core gamers out of the box. Every PC is tailor-made to deliver stunning visuals, ultra-fast response times and crystal clear audio.

NOTE: ALL components are brand new, not refurbished / second hand components!

Built to the highest standards by our winning team.Techtribe represent the last word in quality and reliability. Techtribe build thousands of systems every year and are confident that their reputation speaks for itself.


Intel 8th gen CPU - A high performance six core processor.
Graphics: Geforce Nvidia GTX 1050 Ti 4GB
Hard Drive Storage: 120 GB SSD & 1TB HDD
Processor: Intel® Core™ i5 Six Core Processor i5-8400 (2.8GHz)
RAM Memory: 8GB DDR4 3000MHz Memory
Gigabyte B360 Chipset Motherboard
Premium Quality White Raider RGB, Side Chassis
2 Year Standard Warranty (1 Year Parts, 2 Year Labour)
No O/S (Operating System) - Windows 10 Home 64 Bit is installed for testing but NOT Activated!
Questions:
There are no product questions yet.
Please login to your account to post a question
Leave a comment