Customers Who Bought This Item Also Bought
select all
£99.99

£119.99 Save £20.00
Techtribe Raider Vega 11 Gaming PC - AMD Ryzen 5 Quad Core, 8GB DDR4 Memory, 1TB HDD, 120GB SSD, Vega 11 Graphics, Windows 10 - RGB LEDs
Techtribe Raider Entry Level AMD Ryzen 5 2400G Gaming PC
Manufacturers Code: TTVEGA24RAID
EAN: 0641243390772


Processor: Ryzen 5 2400G
Memory: 1 x 8GB DDR4 RAM
Storage: 1TB
Graphics: Vega 11 graphics
OS: Windows 10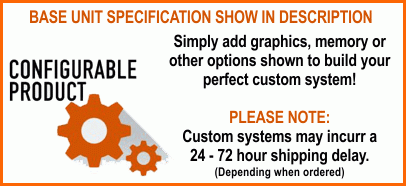 This is a great machine as it is, but some may want to add "extras" to make it their perfect machine ...
Simply add the extra components you may require, from the options shown.
REMEMBER - there will be as little delay as possible in shipping (24-72 hours), as we take time and care to build your perfect system.
Techtribe
THIS IS MY GAMING PC.
THERE ARE MANY LIKE IT,
BUT THIS ONE IS MINE!
Game-Changing Performance. Unleashed.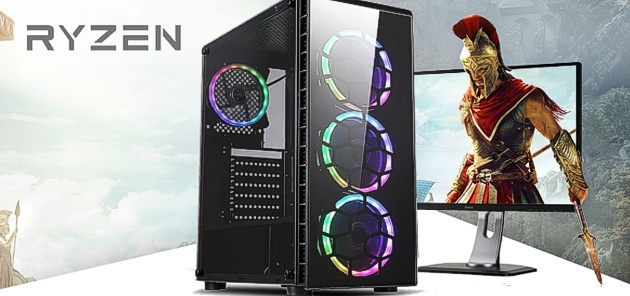 The "Techtribe Raider Ryzen 5 VEGA" is based on the very latest cutting edge AMD Ryzen architecture. Equipped with an AMD Ryzen 5 2400G running at sublime 3.60GHz, this powerful quad coredelivers performance by the bucket load. A huge 8GB of DDR4 RAM runs at a swift 2400MHZ, delivering blindingly quick multitasking performance.

Equipped with a formidable CPU and paired with speedy memory, the "TechTribe Raider VEGA" packs a solid punch capable of powering through the toughest games and demanding applications. Speed is key. A fast system gets the job done quicker, a fast system games harder.

The "Techtribe Raider Ryzen 5 VEGA" is equipped with a 1TB HDD with ample space for all important game installs, data backups, game saves and media content such as movies and music and a 120GB SSD for the operating system, giving faster boot up times and all this in a stunning looking RGB Chassis with glass side and RGB lighting to the front and rear for that ultimate look.

Providing the graphical horsepower in the "Techtribe Raider Ryzen 5 VEGA" is the awesome AMD Radeon VEGA 11 onboard graphics. Delivering the fastest desktop processor graphics ever. You can game in comfort and soak in true 3D worlds courtesy of AMD Radeon VEGA Graphics.

The "Techtribe Raider Ryzen 5 VEGA" is contained within the sleek stunning looking CiT Raider Gaming case finished off with LED fans. Offering ample space and optimal airflow to keep the "Techtribe Raider Ryzen 5 VEGA" running cool and quiet. With dynamic and extrovert styling, you will have a truly unique system, be it at a LAN or at home.
AMD Ryzen 5 2400G 3.6/3.9Ghz Quad Core CPU
AsRock A320M-HDV mATX Motherboard
Integrated Radeon RX Vega 11 GPU
8GB DDR4 2400Mhz Memory (1x 8GB)
1TB 7200RPM SATAIII HDD
Gigabyte 120GB 2.5'' SATA III SSD / Solid State Drive
600w Builders PSU
AMD Wraith CPU Cooler
2 x USB 2.0 & 1 x USB 3.0 at the front
4 x USB 3.0 at the back
1 x VGA, 1 x DVI-D and 1 x HDMI outputs
Supports up to 3 monitors at once
AMD Ryzen™ 5 2400G: RYZEN Powers. RADEON Reigns. You Prevail
High performance processing and graphics. All on one chip!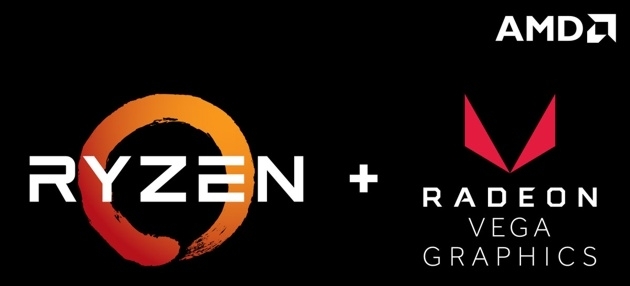 AMD RYZEN™ 5 Technology

At the eye of this Techtribe gaming PC is an AMD Ryzen™ 5 2400G Quad Core Processor (3.60 GHz) expressing the power and efficiency of the all-new high performance Zen x86 core architecture. Equipped with AMD SenseMI Technology your computer will exhibit true machine intelligence making for unprecedented power and responsiveness to help your productivity soar.

Integrated Radeon™ Vega 11 Graphics

AMD Ryzen™ Processors with Radeon™ Vega Graphics are armed with some of the most advanced, powerful computing and graphics hardware available today, fused together in a single processor to deliver the high performance you need for demanding work and serious play, without compromise.

Memory and Storage

Techtribe have loaded this PC with a 1 x 8GB DDR4 2400MHz RAM that delivers blazing fast performance and a high capacity 1TB hard drive that gives you masses of storage space - enough for around 17,000 hours of music, 40 days of video or 300,000 photos and a 120GB SSD for the operating system, giving faster boot up times.

Award Winning AsRock Motherboards

This Techtribe PC boasts the AMD Ryzen AM4 A320M HDV Motherboard, bringing long-term durability and compatibility with over 1000 devices.

The AMD Ryzen AM4 A320M HDV features the smoothest, slickest mouse-controlled graphical BIOS that has been improved to make it even more appealing. Whether you're a PC novice or a seasoned overclocker, the BIOS Modes help you find your way, quickly and easily.

The Best Windows Ever for Gaming

From the best casual games to a new generation of PC gaming, Windows 10® gives you more ways to play. Not only do your existing games work great, but now you can play and connect with gamers across Xbox One and Windows 10 devices. Stream your Xbox One games to any Windows 10 PC. And record and share your epic gaming moments with built-in Game DVR.

Specification:

PROCESSOR
AMD Ryzen 5 2400G Quad Core w/ Radeon VEGA 11 Graphics
3.6GHz, turbo to 3.9GHz
4MB cache

MEMORY
8GB 2400Mhz DDR4 RAM
Supports up to 32GB
2 DIMM sockets (1 used)
HARD DRIVE
1TB Toshiba HDD
120GB SSD (OS Installed)
OPTICAL DRIVE
None supplied

SOFTWARE
Windows 10 Home

MOTHERBOARD
ASRock AM4 A320M HDV Micro ATX

DISPLAY
N/A

GRAPHICS (onboard)
1x HDMI
1x D-Sub
1x DVI-D

AUDIO
Audio Realtek ALC887 7.1 HD Audio

INPUT DEVICES
Keyboard & mouse not supplied

NETWORKING
Network Interface Type Wired Gigabit LAN (10/100/1000)
Network Chip/Modules 1 x Realtek RTL8111GR (Gigabit LAN)

POWER SUPPLY
600w PSU

DIMENSIONS
198mm x 451mm x 411mm (W x H x D)

MOTHERBOARD INTERFACES
1 x 10/100/1000 (LAN)
1 x D-Sub (VGA) Out
1 x DVI-D
1 x Front Speaker Out
1 x HDMI
1 x Line In
1 x Mic-In
1 x PS/2 Keyboard/Mouse Combo
2 x USB 2.0
4 x USB 3.0

EXPANSION
1 x M.2, 2242/2260/2280, PCIe 3.0/SATA
1 x PCIe 2.0 x1
1 x PCIe 3.0 x16
SATA Support SATA3 / M.2
2x 3.5 internal bays (1 used)
2x 2.5 internal bays
LEDS
RGB LED fans

CASE
CiT Raider Mid Tower PC Gaming Case with 4x RGB Halo Fans Tempered Glass Front & Side
1 x USB 3.0
2 x USB 2.0
1 x HD Audio
1 x Microphone

WARRANTY/MISCELLANEOUS
1 Year - Return to Base Warranty

Gaming Info .....

Without spending a fortune, see if gaming is for you ....
Ryzen 5 2400g comes with built in 11 core Vega graphics, which can't be underestimated.
Latest AAA games "might" work at 720p with low settings. But It is made for older games and indie games.

Here are the most playable games on Ryzen 2400g.

First Person Shooter

Far Cry 2, 3, 4
BioShock infinite
BioShock 1,2
Spec ops: the line
Crysis series
Call of duty modern warfare 1,2,3
Call of duty Black ops 1,2
Borderlands 1,2
Battlefield 3,4
Counter Strike: Global Offensive
F.E.A.R (1,2,3)
Half life 2
Doom (2016)
Portal 1,2
Bulletstorm

Racing/Driving

Need For Speed: Most Wanted (2012)
Burnout Paradise
Driver: San Francisco
Grid 2
Trackmania Turbo
Trackmania 2
Dirt 3
Blur
Split/Second
Asseto Corsa

Fighting

Tekken 7
Marvel vs Capcom 3
Dead or Alive 5
Street Fighter 5
Injustice: Gods Among Us

Action Adventure

GTA 4
Batman Arkham Origins
Mass effect trilogy
Skyrim
Hitman: Absolution
Dead space 1,2
Rage 2
L.A Noire
Dishonored
Max Payne 3
Left 4 Dead 2
Team Fortress 2
Dead island
Just Cause 2
Mafia 2
Alan Wake
Enslaved
Resident Evil 5,6
Assassin's Creed 1,2,3,4
Trine 1,2,3

Hack n' Slash

DMC (Devil May Cry)
Darksiders 1,2
Diablo 3
Bayonetta
Castlevania: Lords of Shadow

Sports

FIFA 18
Trials Fusion
Rocket League
Steep
PES 17

Indie

Guacamelee!
Inside
A hat in time
Swapper
Broforce
Livelock
Ruiner
Nex Machina
Shank 1,2
Rive
Dead cells
Hollow knight
Ori and the blind forest
Rayman Legends
Cuphead
Guns Gore and Cannoli 1,2
Mark of the Ninja
Firewatch
Rust
Little Nightmares

Any AAA game before 2013 will run beautifully at 1080p.
Questions:
There are no product questions yet.
Please login to your account to post a question
Leave a comment