Star Wars Jedi Challenges Lenovo AR Headset + Lightsaber Controller & Tracking Beacon - Black
Star Wars Jedi Challenges Lenovo Mirage AR Headset with Lightsaber Controller Requires iOS/Android Smartphone
Manufacturers Code: ZA390011GB
EAN: 0191999347792

Explore The Incredible Jedi Challenges App


Star Wars: Jedi Challenges - AR Headset with Lightsaber & Tracking Beacon




UNLEASH YOUR INNER JEDI
Star Wars: Jedi Challenges is a smartphone-powered experience compatible with select Android and iOS devices. This immersive kit allows you to perfect your Jedi skills and dive into the Star Wars universe. Complete with an AR Headset with a removable phone tray for your smartphone and a Lightsaber to fight your enemies. The tracking beacon follows all of your movements while you're immersed in the game. Play a variety of exciting and challenging game modes such as Lightsaber Battles, Ship Battles, Lightsaber Versus Mode, Holochess and Strategic Combat. You can also explore the new Dark Side expansion, a new content update to the Star Wars: Jedi Challenges App. However you play, whether it's for the Dark Side, Rebel Alliance or the Jedi Order, master your Lightsaber skills and become a true master.

Play with a Range of Smartphones


INCREDIBLE SMARTPHONE COMPATIBILITY

Play multiplayer with friends and don't fret about phone compatibility. The AR Headset is compatible with a wide range of the latest iOS and Android smartphones so anyone can sharpen their Jedi skills.

iOS: iPhone® Xs, iPhone® Xs Max, iPhone® X, iPhone 8 Plus, iPhone 8, iPhone 7 Plus, iPhone 7, iPhone 6s Plus, iPhone 6s, iPhone 6 Plus, iPhone 6.

Android: Samsung Galaxy S9, S8, Samsung Galaxy S7 edge, Samsung Galaxy S7, Google Pixel XL, Google Pixel, Moto Z2 Force, Moto Z, LG G6. Mate 10, Mate 10 Pro, Nova 2S, Xiaomi MIX2, Sony Xperia XZ1.

Come to the Dark Side


DARK SIDE GAME EXPANSION

Discover the Dark Side expansion which is a new content update to the Star Wars: Jedi Challenges app. You can play with both the original Lightsaber controller that's included in this kit, or the Kylo Ren Lightsaber Controller (Sold seperately). Battle all new heroes such as Rey and Yoda in epic duels across three different difficulty levels. You can travel across seven planets as you progress through the difficulty levels and use Force powers to strategically defeat your enemies.

*Requires Star Wars™: Jedi Challenges starter kit, compatible smartphone, and the latest version of the mobile app are required to access the Dark Side Expansion.

Battle your Friends for the True Jedi Title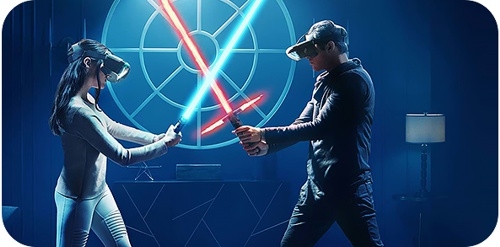 LIGHTSABER VERSUS MODE

Engage your friends and other players in an intense 1-on-1 local multiplayer battle in the Lightsaber Versus mode to see who will become the superior lightsaber duelist. Immerse yourself in battles against your friends in dynamic duels that are different every time. You can use the Force to sense your opponents next move to effectively counter their attacks. Your skill matters in this game mode as you block, dodge and strike your enemy to claim your right to victory.

Command Rebel and Empire Fleets in Epic Space Combat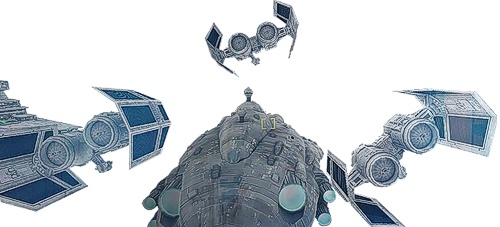 STRATEGIC SHIP BATTLE GAME MODE

Play an intense PvP space combat mode with Ship Battles, where you can manage defensive and offensive tactics to effectively destroy enemy ships. Launch TIE bomber and X-Wing bombing runs to weaken your opponents' defenses, and deploy well-known support ships such as the Millennium Falcon and TIE fighter squadrons to change the tides of battle.

Train your Mind to Be the Ultimate Warrior


CONCENTRATE WITH HOLOCHESS

Train your mind in the brain-strengthening game of concentration and strategy as first seen in Star Wars™: Episode IV – A New Hope™. Holochess allows you to direct holographic alien pieces as you play for territory on checkered game tables. You can collect up to eight unique creatures that all hold their own individual strengths and weaknesses that can help you in the game. Easily outsmart your opponent with tactical skills and a super-powerful team.

Test your Strategy Skills


STRATEGIC COMBAT GAME MODE

Place your defences and units to defeat enemies on the battlefield to test your skills as a military strategist. You can unlock new units and troops as you progress through increasingly difficult challenges to fortify your defenses. Command armies against enemy troops in large-scale ground wars and recreate epic Star Wars battles such as the Battle of Hoth. Lead heroes such as Luke Skywalker and Obi-Wan Kenobi to overcome the forces of the Dark Side.




Questions:
There are no product questions yet.
Please login to your account to post a question
Leave a comment