Customers Who Bought This Item Also Bought
select all
MSI NVIDIA GeForce GTX 1060 6GB GAMING X Graphics Card
MSI GeForce GTX 1060 GAMING X 6GB GDDR5 VR Ready Graphics Card, 1280 Core, 1569 MHz GPU, 1784 MHz Boost, Twin Frozr VI
Manufacturers Code: GEFORCE GTX 1060 GAMING X 6G
EAN: 4719072470364

MSI - GeForce GTX 1060 - GPU - GAMING X




MSI GAMING X GeForce GTX 1060 GPU

As one of MSI's top 1060 graphics cards the GAMING X 1060 brags high clock speeds backed up by a multitude of powerful technologies to enhance gaming experiences. Remarkable clock speeds ensure great performance whilst an advanced cooling system keeps you gaming for longer. This GTX 1060 is aimed toward the enthusiast that craves peaked performance from their GPU. Revel in detail filled worlds with MSI's GTX 1060 GAMING X card.

*Make use of the mobile app to control your graphics card from your phone!

The GeForce GTX 1060 graphics card is loaded with innovative new gaming technologies that make it the perfect choice for the latest high-definition games. Powered by NVIDIA Pascal™ - the most advanced GPU architecture ever created - the GeForce GTX 1060 delivers brilliant performance that opens the door to virtual reality and beyond. #GameReady.




HIGH QUALITY CORE COMPONENTS




COOL LED EFFECTS
Stylize Your 1060 GPU with RGB LED

Through the MSI Gaming App each LED on the 1060 GAMING X can be controlled individually and customized using the various animation effects. These animatiosn range from responding to game or music sounds to a breathing effect - of course they can always be turned off.

GAMING X 1060 ADVANCED AERODYNAMICS




Advanced GPU Cooling Technologies
The GAMING X from MSI has various aspects to help keep this gaming GPU as cool as possible. Every detail of this intricate heat-sink plays an essential part in providing a cool and quiet gaming experience.

Airflow Control
This GTX 1060 utilizes advanced aerodynamics, Airflow Control Technology directs more air directly onto the TWIN FROZR VI heat pipes. The special deflectors on the heat sink enlarge the surface area, creating lower temperatures and better gaming.

Smooth Heat Pipes
Embedded within the GAMING X 1060 GPU are copper heat-pipes running through the cards fins. These 8mm thick pipes have been made with a smooth square shape, this will maximize heat transfer from the surface of the copper base plate.

Solid Base-Plate
To temper the heat generated by a powerful GPU, MSI GAMING series graphics cards use a solid nickel-plated copper base plate. The base plate catches the heat from the GPU and transfers it to the heat pipes for dissipation - further increasing the cooling.

TORX 2.0 FAN MOUNTED GAMING X 1060
Advanced TORX 2.0 Fan

TORX fan technology works in teamwork with TWIN FROZR VI to achieve new levels of cooling. The fans design generates 22% more air pressure for supremely silent performance when gaming. The fans also feature double ball-bearings for a strong and lasting core for years of smooth gaming - also helps with noise elimination.

ZERO FROZR GAMING X COOLING

Fans Spinning
During intense gaming or benchmarking

Fans Stop
Completely silent during idle, multimedia or light gaming

MSI GTX 1060 FROZR Cooling

MSI released this technology in 2008 and it has since become an industry standard among graphics cards. FROZR will eliminate fan noise by stopping the fans in low-load situations, meaning you can keep focus on your gaming, streaming or other media without the noise of spinning fans.

HIGH QUALITY COMPONENTS
Military Class 4

A deciding factor in your graphics card's performance is the quality of components thata re used. GAMING X 1060 makes use of only MIL-STD-810G certified components to ensure the highest quality possible. When stress tested under torturous circumstances these components have proven very durable.

MSI GAMING APP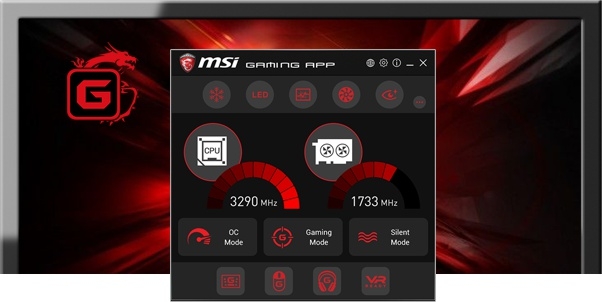 SILENT MODE
The best environment for minimal fan noise

GAMING MODE
Balance between in-game performance and silence

OC MODE
Max performance from higher clock speeds and fan performance

Control your GAMING X 1060
This app from MSI allows you to access single click performance profiles that can unlock extra potential for gaming, or keep your 1060 card silent during light sessions. It also features the EyeRest tab, giving you easy access to image quality improving technology. The LED control tab gives you full control over your MSI GAMING X LED lights to set the mood.

GAMING X MOBILE CONTROL
Customize GTX 1060 From Your Mobile

The exclusive MSI Gaming App is now also available for Android so you can control your graphics card from your phone without having to switch to Windows - uninterrupted gaming from MSI.

MSI GAMING APP & AFTERBURNER
Complete Control over your GAMING X

This technology belongs to MSI but is recognized throughout the world of graphics cards overclocking. It displays hardware performance and grants you complete control over your 1060 GPU. Plus it grants the ability to customize fan profiles, record videos / games and is great for benchmarking.

GTX 1060 CONNECTIONS




HDMI 2.0b / 3x DisplayPort 1.4 / Dual-Link DVI

GEFORCE GTX VR READY

GeForce® GTX graphics cards provide a powerful next-generation platform for the ultimate immersive virtual reality experience. Rigs and cards marked with "GeForce GTX VR Ready" ensure that your VR games will be optimized with a best-in-class GPU.

Immersive VR requires seven times the graphics processing power of traditional 3D apps and games. NVIDIA's unique set of features - such as multi-res shading - mean you get the right level of performance, image quality, and latency to ensure your VR experience is nothing short of amazing.



Questions:
There are no product questions yet.
Please login to your account to post a question
Leave a comment