Customers Who Bought This Item Also Bought
select all
£294.99

£299.99 Save £5.00

£149.99

£169.99 Save £20.00
PowerColor AMD Radeon RX 550 4GB RED DRAGON Graphics Card
PowerColor Radeon RX 550 4GB GDDR5 PCIe 3.0 Graphics Card, 14nm Polaris, 512 Streams, 1071MHz Boost
Manufacturers Code: AXRX 550 4GBD5-DH
EAN: 4713436172338




PowerColor AMD Radeon RX 550 Red Dragon Graphics Card
NOTE: These WILL NOT play high graphic demanding games




Refined, Evolved and Fully Equipped

Introducing the AMD Radeon RX 550 graphics card from Powercolor.It is based on AMD's latest GCN 4 architecture designed for GloFo 14nm FinFET that delivers premium VR capability, increased level of performance, smooth VR, seamless support for next-gen gaming monitors and CPU-free game streaming or recording.





AMD RX550 Features

Performance Power
High performance gaming and total hardware control, through an elegant Radeon software interface.

Enhanced Gaming
Experience uninterrupted immersive gaming with Radeon RX 550 thanks to FreeSync 2 and HDR gaming.

Radeon Chill
Use Radeon Chill for higher clock speeds with less power.

Connections
Built to last with HDMI and DisplayPort and DVI-D Connections.

Support
RX500 series support both Vulkan and DirectX 12 technologies.

Radeon Relive
Share your memorable moments and clutch victories with Radeon ReLive.

Intuitive Features



Adrenalin 2020
AMD Radeon™ Software Adrenalin 2020 Edition gives you more control over your gaming experiences. The software's intuitive interface enables players to stream, share and tweak graphics settings in real-time without missing a second of the action or compromising in-game performance.




AMD VR Ready Premium
Experience the new generation of compelling Virtual Reality content with the Radeon™ graphics card paired with the leading VR headsets. The Radeon™ card coupled with AMD LiquidVR™ technology delivers a virtually stutter-free, low latency experience, essential for remarkable Virtual Reality environments. Industry leading innovation and powerful performance enables the Radeon™ to deliver premium experiences on high-end VR games, entertainment, and applications.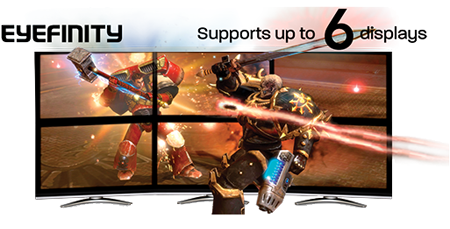 AMD Eyefinity Technology
Expand your territory and customize your field of vision. Connect up to six displays on a single GPU for dynamic, panoramic multi-screen gaming. You'll get an expansive experience that's truly out of sight. (additional displays above 3 may require the use of MST hub). ‍

Specifications:

Chipset Radeon RX 550
Edition PowerColor Red Dragon
Manufacturing Process 14 nm
Microarchitecture Polaris

Cores & Clocks
Streams 512
Core Clock
Boost Clock 1071 MHz

Video Memory (VRAM)
Memory Size 4GB
Memory Type GDDR5
Memory Clock 1500 MHz
Memory Speed (Effective with DDR) 6000 MHz
Memory Bus 128 Bit
Memory Bandwidth
Memory Data Rate

Cooling
Cooling Solution Single Fan (1)
Cooler Design PowerColor Red Dragon Cooler
Fitted/Included Backplate No

I/O & Connectivity
Interface PCIe 3.0 (x16)
Connectivity

1 x DisplayPort
1 x DVI-D SL
1 x HDMI

Visuals
AMD CrossFire Support Supported
AMD Freesync Support Yes
AMD FreeSync Version FreeSync™ 2 HDR
HDR Support Yes
Microsoft DirectX Support 12 API
Max. Concurrent Displays 3 Displays
Maximum Digital Resolution 4096x2160
Maximum Analog (VGA) Resolution N/A

Compute Performance
Peak Half Precision Compute Performance (FP16)
Peak Single Precision Compute Performance (FP32)
Peak Double Precision Compute Performance (FP64)

Power & Thermals
Graphics Card Power Connectors
Graphics Card TDP/Power
Minimum Recommended PSU 400 W
Maximum GPU Temperature

Physical
Width
Low Profile Support
Dimensions 152 x 111.2 x 38 mm
Package Type Retail

Additional Information
Model Number AXRX 550 4GBD5-DH
GTIN 4713436172338






Questions:
There are no product questions yet.
Please login to your account to post a question
Leave a comment