Customers Who Bought This Item Also Bought
select all
piXL 27'' 144Hz Curved HDR G-Sync Compatible 5ms Frameless Gaming Monitor with FreeSync, DisplayPort & HDMI
Pixl 27'' Led 144Hz Widescreen Display Port / HDMI Frameless 5Ms Curved Monitor - CM27GF5
Manufacturers Code: CM27GF5
EAN: 5053118594195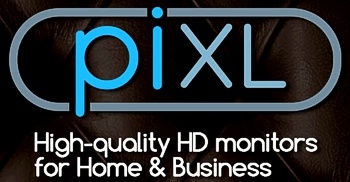 piXL 27'' 144Hz / 165Hz Curved Frameless Gaming Monitor




With a refresh rate of up to 165Hz (over double that of standard HD screens) and a large 27" curved HDR screen with wide colour gamut, crisp inky-blacks and brilliant-whites, the piXL CM27GF5 puts you at the centre of the action. Goodbye stuttering and blurring, hello crisp, clear gameplay and video.

Thanks to its curved and frameless design, you get a fully immersive experience without a wide bezel distracting you and taking up screen space. The fast refresh rate delivers instant, crisp images and gives you the advantage with the next shot and taking the next corner. Use a multi-monitor setup and it's like you're there as your surroundings with the screens wrapping around your field of vision.

The addition of AMD FreeSync and NVIDIA G-Sync compatibility means you'll get the absolute best on-screen experience wi8thout lag, stuttering or trearing at the most important times.

The piXL CM27GF5 also comes equipped with DisplayPort and HDMI connections for amazing picture quality on its 1920 x 1080 screen, using either the included stand or when fixed to a desk or wall mount using the included VESA mount holes, for a clean, space-saving setup.




Features
Curved Screen Putting you at the centre of the action, curved monitors give the impression of wrapping around you as they allow you to see more of the screen from a single point. This creates a seriously immersive experience, particularly when using more than one monitor at a time.

HDR (High Dynamic Range) HDR aims to improve the image quality of PC monitors by increasing the overall brightness, enabling a more noticeable colour gamut and a bigger dynamic range between whites and blacks also resulting in more vivid reds, blues and greens. With HDR, videos and games look lifelike and more closely mimic the light spectrum a human eye perceives. There is significantly more 'pop' in a quality HDR picture than on standard screens. On your piXL monitor, you will need to change the settings in the menu to turn HDR on.

AMD FreeSync Monitors that support AMD's FreeSync variable refresh rate technology synchronise the panel's refresh rate with the frame rate produced by a graphics card. This then produces silky smooth gaming without stutter and screen tears. For FreeSync gaming, you'll need to check you've got a supported AMD graphics card and connect to the monitor using DisplayPort. On your piXL monitor, you will need to change the settings in the menu to turn FreeSync on.

NVIDIA G-Sync NVIDIA'S G-SYNC technology, like AMD FreeSync, automatically synchronises the panel's refresh rate with the current frame rate being produced by the graphics card to remove stutter and screen tearing. Most modern NVIDIA GPUs support G-SYNC from GT 1050 and above, but check to make sure yours does. On your piXL monitor, make sure your graphics card is connected via DisplayPort and go to "Extra" in the monitor menu where the option to turn G-Sync on or off will appear (you may also need to turn FreeSync on). If the G-Sync option does not appear, the graphics card is not compatible

144Hz/ 165HzThis refers to the screen's refresh rate, the speed at which the screen reacts to changing colours and movement. If you're playing action games and high-resolution videos, having a 144Hz high refresh rate (double that of standard screens) or 165Hz means you get crisp, clear images without screen stuttering or blurring of images. On your piXL monitor, you will need to go into the monitor menu and select the refresh rate you want to use. Please note, if AMD FreeSync or NVIDIA G-Sync are activated, a maximum refresh rate of 144Hz is available.





Specification:

Model: CM27GF5
Screen Size: 27" Curve
Panel Type: HVA
Curve: 1800R
Resolution: 1920x1080@144Hz/165Hz
Aspect Ratio: 16:9
Response Time: 5ms
Refresh Rate: 144Hz
Dot pitch: 0.3114 mm
Viewing Angle: 89/89/89/89
Colour Support: 16.7 million
Contrast Ratio: 4000:1
Brightness: 250 cd/m
Backlight: LED
Stand: See image
VESA: 100 x 100 mm

Ports & Connectors
HDMI
Display Port
USB

Power
Type - External Power
Voltage - DC 12V 4.0A
Consumption - <34W
Stand-by - 0.5W

Environmental Certification: MPR II

Colours: Black

Dimensions (H x W x D)
Unboxed Dimensions
693*146*450 mm

Weight
N.W 4.8kgs
G.W 6.0 kgs

Features

Low blue light
Flicker free
Game plus
Kensington Lock
Support 165Hz
Warranty: 2 Year Return To Base Warranty

Package Contents
CM27GF5 Widescreen LCD Monitor
Power Cord
HDMI Cable



















Questions:
There are no product questions yet.
Please login to your account to post a question
Leave a comment