Mercusys HALO S3 Whole Home Mesh Network Wi-Fi System, 3 Unit Pack, 300Mbps, 2 x LAN on Each Unit
Mercusys Halo S3(3-Pack) 300Mbps Whole Home Mesh Wi-Fi System (Wi-Fi Router/Extender/Booster for Seamless Network, up to 3,000 sq feet Coverage, Parental Control, Easy Set Up)
Mercusys Halo S3 2-port Wireless Cable Router
Manufacturers Code: HALO S3(3-PACK)
EAN: 6935364053178

Mercusys Technologies is a manufacturing company specializing in a wide range of Wi-Fi routers, Wi-Fi adapters, signal amplifiers, access points and SOHO switches.
The company headquarters is located in Shenzhen, China.
Mercusys is one of the leaders in the Chinese network equipment market in its segment.
For those of you that do not know, Mercusys is a brand owned by TP-Link.




300Mbps Whole Home Mesh Wi-Fi System
From Mercusys

One Unified Network - With advanced Mesh Technology, Halo units work together to form one unified whole-home network with one Wi-Fi name and one password.
Seamless Roaming - Automatically switch between Halos as you move around your home, always getting the best signal to enjoy the fastest connections for all your devices.
Ultra-High Performance Wi-Fi - Blanket up to 3,000 square feet (280 m²) with high-speed Wi-Fi, ideal for 3 - 5 bedroom houses.
Connects over 60 devices - Enjoy lag-free connection and non-stop entertainment on all your devices, at the same time.



Whole Home Coverage
From the Front Door to the Backyard
With Mercusys Mesh Technology, Halo S3 works as a unified system to guarantee a strong Wi-Fi signal in every corner of your home, covering up to 3,000 square feet (280 m²).

Seamless Roaming

Devices are intelligently connected to the Halo with the strongest signal and highest capacity. No more sudden signal drops or lagging Wi-Fi when you're walking around the house.

Non-Stop Entertainment on All Your Devices

Halo S3 provides fast connections for over 60 devices at the same time. Keep phones, computers, tablets, and smart home and other IoT devices connected and operating at peak performance.

Expand Anytime

Halo S3 is compatible with every other Halo model to form a Mesh network. Expand Mesh Wi-Fi coverage anytime by simply adding more Halos.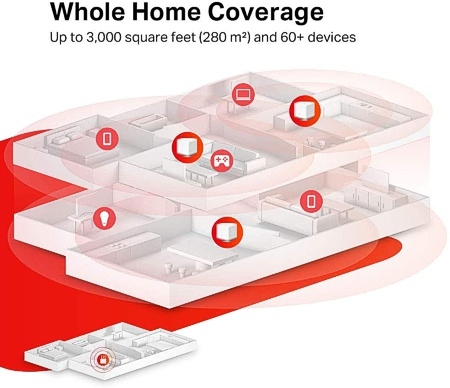 Specification

RF Network Standard 802.11b/g/n
LAN Port Connector RJ-45
LAN Port Protocol Ethernet
LAN Port Speed 10/100 Mbps
Number of LAN Ports 2 port(s)
Number of WAN Ports 1 port(s)
Wireless Network Yes
Main Colour White
WPS Support No
USB Peripheral Connection No
Router Type Cable

Wireless Communications
WiFi Type 802.11n

Warranty
Warranty 1 Year

Item Details
Manufacturer Mercusys
Manufacturer Code HALO S3(3-PACK)
EAN 6935364053178
Condition New




Questions:
There are no product questions yet.
Please login to your account to post a question
Leave a comment