Customers Who Bought This Item Also Bought
select all
Intel Core i5 9600K Unlocked 9th Gen 3.7GHz Hexa Core Desktop Processor / CPU Retail
Intel Core i5 9600K, S 1151, Coffee Lake Refresh, 6 Core, 6 Thread, 3.7GHz, 4.6GHz Turbo, 9MB, 1150MHz GPU, 95W, Box
Manufacturers Code: BX80684I59600K
EAN: 5032037140164

Processor Speed - 3.7GHz
Hexa Core (6 Threads)
Power Usage 95W (TDP)
Intel UHD 630
*No Cooler Included

IMPORTANT:
Please check with your motherboard manufacturer for support. This processor is designed for use with Z390 chipset motherboards. Whilst it can work on Z370, B360 and H310 chipsets, motherboards based on these will require a BIOS update before they will work with this processor.

Unlocked 9th Gen i5 Processor - Intel Coffee Lake 9600K CPU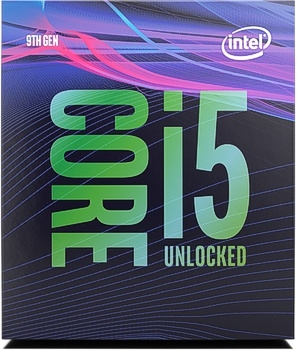 DESIGNED FOR THE WORLD'S BEST GAMERS
Experience exceptional performance, immersive entertainment and simple convenience with 9th Gen Intel Core processors. The i5 9600K processor extends all the capabilities that users love from previous generation CPUs with even more advanced innovations that deliver new levels of performance immersing you into your computer on a variety of form factors. The 9600K features all the latest Intel technologies to allow you to have the best computing experience, and this particular CPU is unlocked allowing you to overclock it to your gaming or production needs.

Please Note: Although the Intel 9th CPUs are compatible with a range of Intel 300-series motherboards utilizing the LGA 1151 socket, for optimum power delivery, maximum performance, & the best possible overclocking experience, we recommend using a Intel Z390 motherboard with these processors.


Intel i5 9600K Performance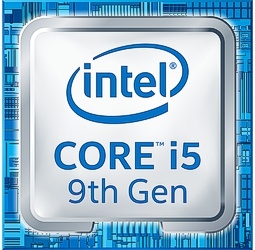 EXCEPTIONAL I5 PERFORMANCE
The 9th Generation Intel Core processors redefine mainstream desktop PC performance. The i5 9600K features six cores for more processing power. The Unlocked feature on this chip allows for overclocking enabling you to tweak the performance. Intel Turbo Boost technology has also increased the maximum turbo frequency of 4.6 GHz, and it features up to 9 MB of cache memory. The 9th gen i5 processor allows you to enjoy excellent gaming and VR experiences.

Immersive VR Experience




PUT YOURSELF IN THE GAME
A high-performance processor is key to achieving a balanced platform to make your VR experiences great. Attach your premium head-mounted display (HMD) to an Intel Core i9, i7 or i5 processor based PC, and prepare to be amazed. The performance of the 9600K processor allows for a very smooth virtual reality experience. Keep in mind that great VR experiences involve the entire platform, not just any one component. The ideal combination of processor, graphics, I/O connectivity, display, and audio are required, but be assured that this 9th Gen i5 Intel Processor won't let you down.

9TH GEN PROCESSOR FAMILY
The 9th Generation Intel Core processor family is a great investment in your desktop experiences—whether for gaming, entertainment, or general-purpose computing wherever your life takes you. From the jaw-dropping performance of the Intel Core i9 processor with eight cores to the practical capabilities of the Intel Core i5 processors, our latest generation of desktop processors fits a wide range of budgets and needs. Whether you're a performance-hungry professional, an exceptional enthusiast, or a first-time buyer, there is a 9th Generation Intel Core processor that will enable the experiences you seek.

Ultra-High Definition Entertainment




Stream and play in 4K UHD
Desktop computers based on the 9th Gen Intel processors integrate advanced media technologies that bring premium, high-quality content to your desktop to deliver smooth streaming of premium 4K UHD entertainment to your PC.

Push Past the Limit with Overclocking!

WHAT IS OVERCLOCKING?
Increase processing power by fine-tuning your system to run your processor at higher settings than the default specification.

WHAT ARE THE BENEFITS?
Higher processor settings can allow you to increase game configurations, play at higher frame rates and enable smoother gameplay for the ultimate gaming experience.

HOW EASY IS IT TO OVERCLOCK?
Intel® XTU is an overclocking toolkit that lets you easily change your settings and benchmark speeds to tune your system to its highest possible frequency.

UNLOCKED CPU
Maximum processor frequency with Intel Turbo Boost 2.0.
Altering clock frequency or voltage may damage or reduce the useful life of the processor and other system components, and may reduce system stability and performance. Product warranties may not apply if the processor is operated beyond its specifications. Check with the manufacturers of system and components for additional details.

© 2018 Intel Corporation. Intel, the Intel logo and Intel Core are trademarks of Intel Corporation or its subsidiaries in the U.S. and/or other countries.

Specification:

Specifications
CPU Type Intel Core i5
CPU Model 9600K
Socket 1151
Architecture Coffee Lake Refresh
Manufacturing Process 14 nm
No. of Cores 6 Core
No. of Threads 6
Core Ratio 37 x
Clock Speed 3.7 GHz
Turbo Speed 4.6 GHz
Max. Turbo Speed (On 2 Cores Only) N/A
Intel Turbo Boost Max Technology 3.0 No
FSB Speed N/A
QPI Speed N/A
UPI Links/Speed N/A
DMI Speed 8 GT/s
Unlocked Core Multiplier Yes
Unlocked Full Range Base Clock (B-Clock) No
Max. Memory Size 64 GB
Max. Memory Speed DDR4 - 2666
Max. Memory Channels 2 (Dual Channel)
ECC Memory Support Not Supported
Intel Optane Memory Support Yes
Scalability 1 Socket/Processor ONLY
Max. PCIe Lanes Supported 16
Processor Graphics Intel UHD Graphics 630
Base GPU Speed 350 MHz
Max. GPU Speed 1150 MHz
Max. GPU Resolution 4096x2304 (4K) @60Hz
L1 Cache
L2 Cache
L3 Cache *See Intel Smart Cache*
Intel® Smart Cache 9MB
Voltage
Max. TDP 95W
Thermal Specification 100 °C
Heatsink/Cooler Included? Not Included, Sold Separately
Package Type Retail


Questions:
There are no product questions yet.
Please login to your account to post a question
Leave a comment