Customers Who Bought This Item Also Bought
select all
Gigabyte P850GM 850W Fully Modular 80+ Gold Rated PSU
850W Gigabyte P850GM, Fully Modular, 80 PLUS Gold, SLI/CrossFire, Single Rail, 120mm Fan, ATX PSU
Manufacturers Code: GP-P850GM-UK
EAN: 4719331551919




850 Watt P850GM 80 PLUS Gold Power Supply from Gigabyte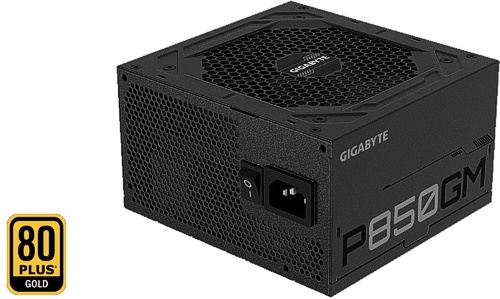 Create a Powerhouse System

Fortify the power of your system with the P850GM PSU from GIGABYTE. This impressive power supply unit houses 100% japanese capacitors to give you excellent performance for longer, along with an intuitive Hydraulic Bearing Fan that offers both noise reduction and excellent cooling. The 80 PLUS Gold certification that this PSU holds means that you will enjoy up to 90% efficiency at all times. Take advantage of incredible stability, compatibility and the best power output with Single +12V rail, and ultimately give your PC the power it deserves. In order to make sure the entire computer system to operate stably under any conditions, we not only added protection designs such as OCP, OTP, OVP, OPP, UVP and SCP, but also ensured the stable operation of your system through the safety certification of various countries.




Keep your PC Performance Optimized




120mm Smart Hydraulic Bearing Fan

The 120mm Hydraulic Bearing fan inside the PSU works by reducing noise and optimizing thermal performance. The fan speed is adjusted according to the automatic power detection. The HYB fan offers a longer and more stable lifespan and can last 1.4 times longer than a standard sleeve bearing fan.

*Please note: the lifespan of the Hydraulic Bearing fan is more than four years.

Stay Powered up for Years to Come




100% Japanese Capacitors

The Japanese capacitors in the GIGABYTE P750GM PSU are made at the highest quality to produce the efficient performance and long reliability that every PC enthusiast desires and needs. Japanese capacitors can last up to four times longer than the conventional capacitors, which guarantees you'll have greater power for longer.

Certified for Excellent Efficiency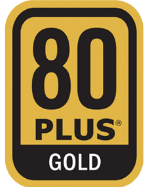 80 PLUS GOLD Certification

The 80 PLUS Gold certification ensures up to 90% efficiency at 50% load when running your PSU. There's less power waste, reduced heat and reduced fan noise.

Get your System Powered up with Ease

Fully Modular Design

GIGABYTE's P850GM provides the best solution for easily creating your dream system. All the black flat cables are modular design. Installing only the cables you need to reduce clutter, to increase the airflow and to improve the chassis thermal performance.
Specification

SATA Connectors 8
CPU Connectors 2 x 4+4-pin EPS
PCI Connectors 4 x 6+2-pin PCIe
Motherboard Connectors 1 x 20+4-pin ATX
Molex Connectors 3
Floppy Connectors 1 x Floppy

Get the Finest & Most Stable Power Supply

SINGLE +12V RAIL Single +12V rail provides the best power output, stability and compatibility for the hardware. It provides the easiest way to install the power cable. And it is the best design for overclocking.

Specification;

Interfaces/Ports
SATA Connectors 8
CPU Connectors 2 x 4+4-pin EPS
PCI Connectors 4 x 6+2-pin PCIe
Motherboard Connectors 1 x 20+4-pin ATX
Molex Connectors 3
Floppy Connectors 1 x Floppy

Compliance
Standards 80 PLUS Gold Certified
Safety OVP, OPP, SCP, UVP, OCP, OTP

Electrical
Voltage 100 ~ 240 VAC
Power 850 W
Frequency Range 50 ~ 60 Hz
Power Cord No

Physical
Form Factor ATX Power Supply
Case Colour Black
In The Box Power Supply
Screws
Width 150 mm
Depth 140 mm
Height 86 mm

Warranty
Warranty 5 Years

Key Features
Modular Cables Modular
80Plus Rated 80 Plus Gold
PSU Form Factor ATX
PCI-E Connectors 4
Floppy Connector 1
Motherboard Power Connectors 4 + 4-Pin x 2
PCI-E Pin Type 6+2-Pin
PSU Depth 140 mm

Item Details
Manufacturer Gigabyte
Manufacturer Code GP-P850GM-UK
Alternative Part Numbers 28200-P850G-1UKR, GP-P850GM
EAN 4719331551919
Condition New








Questions:
There are no product questions yet.
Please login to your account to post a question
Leave a comment