Customers Who Bought This Item Also Bought
select all
£59.99

£99.99 Save £40.00

£599.99

£664.99 Save £65.00
Gigabyte NVIDIA GeForce RTX 3060 Ti 8GB GAMING OC PRO V3 LHR Ampere Graphics Card
Gigabyte GeForce RTX 3060 Ti GAMING OC LHR PRO 8G GPU (rev. 3.0)
Gigabyte NVIDIA GeForce RTX 3060 Ti GAMING OC PRO V3 LHR 8GB GDDR6 Ray-Tracing Graphics Card
Manufacturers Code: GV-N306TGAMINGOC PRO-8GD
EAN: 4719331309411




Gigabyte RTX 3060 Ti GAMING OC PRO V3 LHR Graphics Card




Step Into The Future Of Graphics

Prepare yourself for an unforgettable gaming experience with the Gigabyte RTX 3060 Ti GAMING OC PRO V2 graphics card, powered by the all-new Flagship NVIDIA GeForce Ampere architecture boasting 2nd Generation RT cores and 3rd Generation Tensor Cores to bring you the biggest graphical performance leap of the modern era. The RTX 3060 Ti GAMING OC PRO V2 features an incredible 8GB of GDDR6 memory, the renowned WindForce 3x cooling system to keep all that power in check with its alternate spinning unique bladed fans to give you whisper quiet unprecedented high efficiency heat dissipation plus a protective metal backplate that not only enhances the aesthetics of your card but also enhances the structure to provide full protective coverage, and with support for RGB Fusion 2.0 you have access to 16.7 million customisable colour options and lighting effects, allowing you to choose your lighting style or synchronise with other compatible Gigabyte devices.

What is LHR ?

It's official NVIDIA have introduced an improved hash rate limiter to newly manufactured graphics cards; reducing their effectiveness for mining cryptocurrency and bringing more graphics cards back into the hands of gamers, GeForce RTX GPUs have introduced a range of cutting-edge technologies - RTX real-time ray tracing, AI-powered DLSS frame rate booster, NVIDIA Reflex super-fast response rendering for best system latency, and many more - created to meet the needs of gamers and those who create digital experiences. Identified by a "Lite Hash Rate or LHR Label" NVIDIA believe this additional step will get more GeForce cards at better prices into the hands of gamers everywhere.

4864 Cuda Cores : 1410 MHz Core Clock : 1770 MHz Boost Clock : 8GB GDDR6 Memory

Features

NVIDIA Ampere Streaming Multiprocessors
2nd Generation RT Cores
3rd Generation Tensor Cores
Powered by GeForce RTX™ 3060 Ti
Integrated with 8GB GDDR6 256-bit memory interface
WINDFORCE 3X Cooling System with alternate spinning fans
RGB Fusion 2.0
Protection metal back plate
LHR (Lite Hash Rate) version

Expert Cooling like No Other




Windforce 3X Cooling System

The WINDFORCE 3X cooling system features 3x 80mm unique blade fans, alternate spinning fans, 5 composite copper heat pipes, 3D active fan and Screen cooling technologies, which together provide high efficiency heat dissipation. The Alternate Spinning fans work to reduce the air turbulence of adjacent fans and enhancing air pressure, whilst 3D Active Fan technologies offers semi-passive cooling, allowing the fans remain off when the GPU is under minimal load allowing to blast through your tasks with minimal distractions.

Made to Last for Years to Come

Unique Blade Fan
The airflow is spilt by the triangular fan edge, and guided smoothly through the 3D stripe curve on the fan surface. Graphene nano lubricant can extend the life of sleeve bearing fan by 2.1 times, close to the life of double ball bearing, and is quieter.
cooling

Screen Cooling
Extended heatsink design allows air flow to pass through, providing better heat dissipation.

Heat Pipes Direct Touch
The shape of the pure copper heat pipe maximizes the direct contact area with the GPU. The heat pipe also covers the VRAM through a large metal plate contact to ensure proper cooling.

Enjoy Stunning RGB Lighting Effects




RGB Fusion 2.0
Featuring RGB Fusion 2.0 Utility, this allows you to select from and easily achieve RGB synchronisation with just one single click. Adjust RGB light speed and brightness with 16.7 million customisable colour options and various lighting effects, you can choose lighting effects or synchronise with other Gigabyte devices.

Expert Protection for Superior Longevity

Protection Metal Back Plate
The metal back plate not only improves the an aesthetics of your GPU shape, but also enhances the structure of the graphics card to provide complete protection.

Extrem Durability And Overclocking
The graphics card uses the better power phase design to allow the MOSFET to operate at lower temperature, and over-temperature protection design and load balancing for each MOSFET, plus the Ultra Durable certified chokes and capacitors, to provide excellent performance and a longer system life.

Friendly PCB Design
Fully automated production process ensures top quality of the circuit boards and eliminates sharp protrusions of the solder connectors seen on the conventional PCB surface. This friendly design prevents your hands from getting cut or inadvertently damaging components when making your build.

Power Indicator
We all know problems can occur; just incase there is any power anomalies two bright lights will flash to alert you that your power connectors aren't connected correctly.

Dual Bios
An intuitive switch allows you to interchange between two presets, silent mode will provide a quieter experience whilst OC will allow you to push your performance to the limits, each switch will require a reboot to take effect

Fine-Tune Every Setting with Ease


NVIDIA Ampere Architecture




2nd Gen RT Cores
2X THROUGHPUT

3rd Gen Tensor Cores
UP TO 2X THROUGHPUT

NEW SM
2X FP32 THROUGHPUT

DLSS AI Acceleration

Max FPS. Max Quality. Powered by AI.
NVIDIA DLSS is groundbreaking AI rendering that boosts frame rates with uncompromised image quality using the dedicated AI processing Tensor Cores on GeForce RTX. This gives you the performance headroom to crank up settings and resolutions for an incredible visual experience. The AI revolution has arrived to gaming.


Ultimate Ray Tracing And AI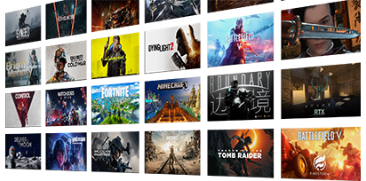 RTX. It's On.
Only NVIDIA's RTX platform includes dedicated RT Cores for ray tracing and Tensor Cores for AI that enable groundbreaking technologies at breakthrough speed. Experience today's biggest blockbusters like never before. RTX. It's On

NVIDIA Reflex Dynamically Reduces System Latency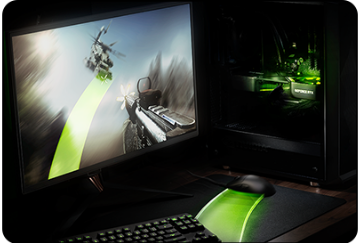 Create as Fast as your Imagination




Up Your Creative Game
Take your creative projects to a new level with GeForce RTX 30 Series GPUs. Delivering AI-acceleration in top creative apps. Backed by the NVIDIA Studio platform of dedicated drivers and exclusive tools. And built to perform in record time. Whether you're rendering complex 3D scenes, editing 8K video, or livestreaming with the best encoding and image quality, GeForce RTX GPUs give you the performance to create your best

Transform any Room Into your Home Studio


Stream Like a Boss
Live streamers can now level up their game even further with the new NVIDIA Broadcast app. It upgrades any room into a home broadcast studio by transforming standard webcams and microphones into smart devices through the power of AI. The Broadcast app offers three AI-powered features which are: Noise Removal, Virtual Background and Auto frame so the focus always remains on you.

DirectX Raytracing Allows Incredibly Realistic Graphic Effects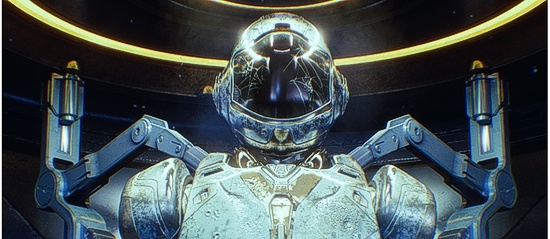 DirectX 12 Ultimate Offers Features Like Ray Tracing and Variable Rate Shading

DirectX Raytracing allows games to simulate how light works in real life, providing incredibly realistic and beautiful graphics effects like global illumination, reflections, and shadows.

NVIDIA has partnered closely with Microsoft to enable full DXR support on GeForce GPUs. GeForce RTX GPUs were designed from the start for the extreme demands of ray-tracing workloads. Specialised RT cores, found only on GeForce RTX graphics cards, provide billions of rays per second of performance, and up to 3X the frame rates with DXR games and applications. This makes ray tracing at real-time frame rates possible for the first time.

GeForce RTX 30 Series Features

8K HDR Gaming
Step up to the ultimate 4K gaming experience with the GeForce RTX and enjoy today's biggest games in amazing detail.

GeForce Experience
The essential companion to your GeForce graphics card. Capture and share videos, screenshots, and livestreams. Keep your drivers up to date and optimize your games.

Game Ready Drivers
Get the highest levels of performance, and the smoothest experience possible, from the moment you start playing.

Virtual Reality
Take your VR experiences to a whole new level with the powerful new GeForce® RTX GPUs. You can count on the lowest latency and highest performance with VR.

NVIDIA G-Sync
Get smooth, tear-free gameplay at refresh rates up to 360 Hz, plus HDR and more. NVIDIA G-SYNC gaming monitors are the ultimate go-to equipment for enthusiast gamers.

NVIDIA Ansel
Turn your screenshots into art with this powerful in-game photo mode that captures 360, HDR, and super-resolution photos.
Specification

GPU
Chipset Manufacturer NVIDIA
Chipset Model Name GeForce RTX
Chipset Model Number 3060 Ti
Chipset Additional Information GAMING OC PRO
Boost Chip Clock 1770 MHz
Number of Cores 4864 units
Graphics Core CUDA

Memory
Memory Size 8192 MB
Memory Clock 14 Gbps
Memory Type GDDR6
Memory Width 256 bit
Memory Bandwidth 448 GB/s

Interfaces/Ports
Video Card Bus Type PCI Express
Video Card Bus Version 4.0 x16
HDMI Port 2 x HDMI 2.1
DisplayPort 2 x DisplayPort 1.4a

Resolution
Multiple Monitor Support (Max) Yes (4)
Maximum Resolution 7680 x 4320 pixels

System Requirements
System Requirements 1 x PCI Express 4.0 x16 slot
Recommended 650W PSU with 1 x 8-pin PCIe & 1 x 6-pin PCIe connectors

Electrical
Power Connector 1 x 8-pin PCIe
1 x 6-pin PCIe
Recomended Power Supply 650 W

Physical
Form Factor Graphics Card
In The Box Graphics Card
Quick Guide
Width 40 mm (Dual Slot)
Depth 281 mm
Height 117 mm

Warranty
Warranty 3 Years

Key Features
Interface Type PCI Express 4.0 x16
VGA Connection No
DVI Connection No
HDMI Connection Yes
Graphics Usability Gaming
DisplayPort Connection Yes
Direct X Support Direct X 12
Cooler Type Dynamic Fan
Low Profile No
NVIDIA GeForce RTX 3060 Ti
PCI-E Pin Type 6-Pin + 6+2-Pin
Cooling Technology Dynamic Fan
VR Ready NVIDIA
GPU Length 281 mm
Card Width Dual Slot

Graphics
Graphics Chipset GeForce RTX 3060 Ti

Graphics Device
G-Sync Yes

Compatibility
Lite Hash Rate Yes

Item Details
Manufacturer Gigabyte
Manufacturer Code GV-N306TGAMINGOC PRO-8GD V3
Alternative Part Number GV-N306TGAMINGOC PRO-8GD (REV 3.0)
EAN 4719331309411
UPC 889523029237
Condition New
Questions:
There are no product questions yet.
Please login to your account to post a question
Leave a comment