Gigabyte Intel Z390 AORUS PRO 9th Gen s1151 RGB ATX Motherboard
Z390 Aorus Pro Intel Z390 (Socket 1151) DDR4 ATX Motherboard by Gigabyte
Gigabyte Z390 AORUS PRO, Intel Z390, S 1151, DDR4, SATA3, Dual M.2, 2-Way SLi/3-Way CrossFire, GbE, USB3.1 Gen2 A+C, ATX
Manufacturers Code: Z390 AORUS PRO
EAN: 4719331804312




Gigabyte Z390 AORUS Pro
Intel 9th Gen ATX Gaming Motherboard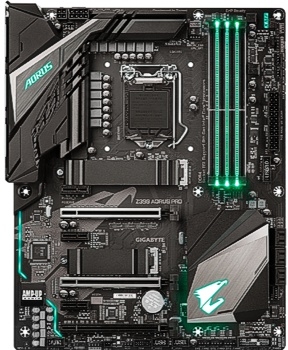 Dominate the Future with Aorus

The ultimate gaming Z390 motherboard, GIGABYTES AORUS Pro is packed full of interesting and useful technology, ranging from audio, through performance and even customization. The AORUS Pro motherboard is reinforced with ultra-durable components on the memory and PCIe slot armour, and components such as top-end capacitors. The Z390 board's customisation and its intuitive UI through the RGB Fusion app allows you to make your AORUS board your own.

Please note: Z390 Motherboards are compatible with Intel 8th Gen 'Coffee Lake' and 9th Gen CPUs. Although these Intel Z390 Motherboards share the same socket as Intel's 200 & 100 Series Motherboards, they are electrically incompatible & will not work with 7th & 6th Gen Intel CPUs.




Incredible AORUS Performance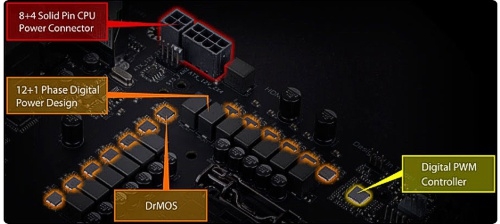 Incredible Precision When Delivering Power

Z390 AORUS PRO motherboard uses an 12+1 phases digital CPU power design which includes both digital PWM Controller and DrMOS. These 100% digital controller and additional 8+4 Solid-pin CPU Power Connectors offer incredible precision in delivering power to the motherboard's most power-hungry and energy-sensitive components, allowing enthusiasts to get the absolute maximum performance from the new 8-core 9th Gen Intel® Core™ processors.

Advanced Thermal Design




Faster and Undistorted Current Delivery

Z390 AORUS PRO uses very high performance thermal design by combining 2 heatsinks with Heatpipe, thick thermal pad, providing ultimate MOSFET cooling performance for enthusiasts, overclockers and gamers.

Dual M.2 for Ultimate Storage




AORUS M.2 Thermal Guard

AORUS Gaming Motherboards are focused on delivering M.2 technology to enthusiasts who want to maximize their system's potential. Z390 AORUS motherboards offer the industry's best compatibility in terms of NVMe storage for users who demand high capacity and seek the best performance. GIGABYTE provides a thermal solution for M.2 SSD devices. The M.2 Thermal Guard prevents throttling and bottlenecks from high speed M.2 SSDs as it helps to dissipate heat before it becomes an issue.

Support for DDR4 XMP Up to 4133MHz!




Broad DDR4 Compatibility

AORUS is offering a tested and proven platform that ensures proper compatibility with profiles up to 4133MHz and beyond. All users need to do to attain this performance boost is to ensure that their memory module is XMP capable and that the XMP function is activated and enabled on their AORUS motherboard. DDR4 memory modules are available at a stock frequency of 2133MHz, but as frequency tweaking requires a considerable amount of effort and knowledge, memory vendors encode XMP profiles which can automatically modify the timings of the supported memory modules to work with your CPU and to achieve increased performance.

Immersive AORUS Audio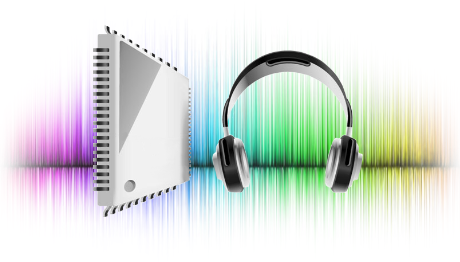 All New Realtek High-End HD Audio Codec

ALC1220 120dB(A) SNR HD Audio with Smart Headphone Amp automatically detects impedance of your head-worn audio device, preventing issues such as low volume and distortion. With the new VB series audio controller, stream your voice to the world vibrantly with both front/rear microphone SNR up to 110/114dB. The AORUS motherboards boast a combination of Hi-Fi grade WIMA FKP2 capacitors and high-end audio capacitors. While the high-end audio capacitors are suited for high-grade audio equipment, using state of the art technology to provide rich sound in the bass and clearer high frequencies, the WIMA FKP2 capacitors are being used widely in premium grade Hi-Fi systems.

Intel GbE Lan with cFosSpeed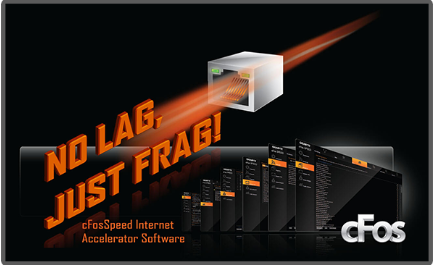 Internet Accelerator Software

Intel GbE LAN features cFosSpeed, a network traffic management application which helps to improve network latency and maintain low ping times to deliver better responsiveness in crowded LAN environments. Gigabyte motherboards also feature special anti-surge ICs that protect your motherboard, and your PC from any surge in power delivery that may occur, helping to ensure that your PC is equipped to deal with any potentially irregular and inconsistent power delivery.

Intel® Optane™ Memory




Advanced Performance with the Optane Cache Memory

The Z390 AORUS Platform supports Intel's latest Optane technology. Optane fuels storage performance by acting as a cache drive giving users a significant boost compared to traditional mechanical drives.

Connecting the Future with USB Type-C™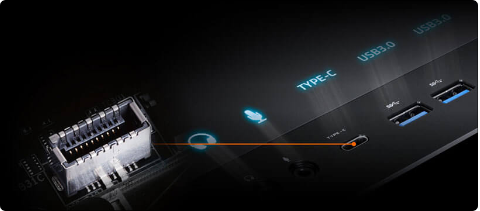 The World's Next Universal Connector

Equipped with next generation connectivity AORUS Gaming Motherboards already support the chassis of the future. The onboard USB Type-C™ header for USB 3.1 Gen2 makes access convenient when connecting a USB 3.1 Gen2 drive or charging your new mobile device. Intel's native USB 3.1 host controller provides USB 3.1 ports with speeds up to 10Gbps .With twice the bandwidth compared to its previous generation as well as backwards compatibility with USB 2.0 and 3.0, the much improved USB 3.1 protocol is available over the new reversible USB Type-C™ and the traditional USB Type-A connector for better compatibility over a wider range of devices.

Aorus RGB Fusion LED Lighting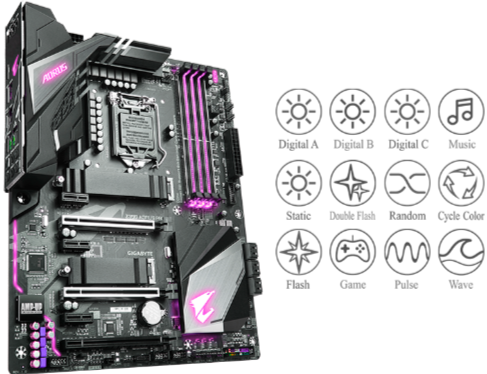 Multi-Zone Light Show Design

RGB Fusion offers users the option to control onboard RGB and external RGB / Addressable LED light strips for their PC. Now offering more LED customizations than ever, users can truly adapt their PC to represent their lifestyle. With full RGB support and a redesigned RGB Fusion application, the user has complete control over the LEDs which surround the motherboard. AORUS Motherboards will support either 5v or 12v Addressable LED lighting strips and up to 300 LED lights. RGB Fusion with Addressable LEDs comes with new patterns and various speed settings with more to come.

RGB Fusion Software
Set LEDs to synchronize with your favorite music or have them change colors to indicate the CPU temperature.

RGB Fusion APP
The GIGABYTE RGB Fusion mobile app users can watch as they control the lighting within their gaming PC

AORUS Smart Fan 5




Choose from different modes

With Smart Fan 5 users can ensure that their gaming PC can maintain its performance while staying cool. Smart Fan 5 allows users to interchange their fan headers to reflect different thermal sensors at different locations on the motherboard. Not only that, with Smart Fan 5 more hybrid fan headers that support both PWM and Voltage mode fans have been introduced to make the motherboard more liquid cooling friendly. For each fan or pump, you can use the intuitive fan curve to define trigger thresholds and corresponding fan speeds. Map any fan to stop completely when temperatures drop below a specified threshold with Fan Stop.

More metal quantity to sustain higher power and generated heat

Z390 AORUS motherboards feature solid plated ATX 24pin & ATX 12V 8pin + 4pin power connectors to offer a stable power supply during CPU overloading. Having a Solid Pin means there is a larger contact are for electricity whilst stil being ultra durable for a longer lifespan.

DIAGNOSTIC LEDS
On-board LEDs controlled by the system BIOS specify if a malfunction is occurring, allowing users to promptly take action by quickly diagnosing which major component (CPU/DDR/VGA/HDD) is faulty.

DUALBIOS DESIGN
GIGABYTE DualBIOS™ means that your motherboard has both a 'Main BIOS' and a 'Backup BIOS', protecting users from BIOS failure due to virus, hardware malfunction, improper OC settings or power failure during the update process.

G CONNECTOR DESIGN
With the G Connector, you can connect all the FP cables at once, streamlining the process of building your next PC and saving you some frustrations, as the tiny cables in the front panel connector can be hard to manipulate as space is restricted.

GIGABYTE BIOS and Applications

New User Interface

GIGABYTE has specially designed the BIOS to provide users the most premium experience while constructing their new system, with a new GUI and easier to use functionalities. The BIOS is crucial for users during initial setup to allow for the most optimal settings.

Innovative Technology

AORUS EXCELLENCE

Each AORUS motherboard includes TriDef SmartCam software, remove backgrounds without the hassle of using a green screen. Through the SmartCam application you can now apply live filters, and fully control your background. Optimise and improve your connection with WTFast the Gamers Private Network (GPN). Cast your game anywhere and experience the greatest gaming moments with XSplit Gamecaster + Broadcaster. Host your game like a pro and with just one click stream your gameplay to Twitch, chat to fellow gamers and interact with social media integration.

Save power with one simple click with CEC Energy Saving technology. GIGABYTE motherboards can achieve lower power consumption under idle mode and fully comply with new CEC 2019 power consumption requirement.
down

TRIDEF® SMARTCAM
Using SmartCam you can now apply live filters, remove backgrounds, not only whilst streaming but also through other video applications.

WTFAST (GPN)
Enhance your online game performance with WTFast, the Gamers Private Network (GPN); which optimises your connection.

XSPLIT GAMECASTER + BROADCASTER
Cast your game anytime, anywhere with only one click. The fully optimised social media integration allows you to instantly connect for real-time chats.

Specification:

Edition Z390 AORUS PRO
Form Factor ATX
CPU Socket 1151
Chipset Intel Z390

RAM Memory Support
Memory Type DDR4
Memory Channel Dual (2)
Memory Type (ECC) Non-ECC
Memory Type (R/U) UDIMM (Unbuffered)
Memory Speed (Mhz)

DDR4 - 2133
DDR4 - 2400
DDR4 - 2666

Max. Memory Capacity 64GB (4x16GB)

Audio
Audio Realtek ALC1220-VB 7.1 HD Audio

Graphics Support
Primary GPU Interface PCIe 3.0 (x16)
NVIDIA SLI Support 2-Way SLi
AMD CrossFire Support 3-Way CrossFire
Integrated Graphics
On-Board Graphics Connectors HDMI 1.4

Internal Connectivity
Expansion Slots

1 x M.2, 22-42/60/80, PCIe/SATA
1 x M.2, 22-42/60/80/110, PCIe/SATA
3 x PCIe 3.0 x1
1 x PCIe 3.0 x16
1 x PCIe 3.0 x16 (x4 Bandwidth)
1 x PCIe 3.0 x16 (x8 Bandwidth)

SATA Support SATA3 / M.2
RAID Support via SATA
Storage Mode Support

Intel Optane Memory Ready
NVMe Boot (via M.2 PCIe Slot)
NVMe Boot (via PCIe 3.0 Slot)
RAID 0 (SATA 0~5 ONLY)
RAID 1 (SATA 0~5 ONLY)
RAID 10 (SATA 0~5 ONLY)
RAID 5 (SATA 0~5 ONLY)

Internal I/O

1 x 24-pin (Power)
1 x 4-pin (Power)
1 x 4-pin CPU Fan Connector
1 x 4-pin CPU OPT Fan Connector
4 x 4-pin System Fan Connector
2 x 4-pin Water Pump Connector
1 x 8-pin (Power)
1 x Clear CMOS jumper
2 x Digital LED strip header
2 x Digital LED Strip Power Select Jumper
1 x Front Panel Audio Header
1 x Front Panel Connector
2 x RGB LED connector
1 x S/PDIF-Out Header
6 x SATA III - 6Gb/s
2 x Temperature Sensor Header
1 x Thunderbolt AIC Connector
1 x TPM 2.0 Header
2 x USB 2.0 Header
1 x USB 3.1 Gen1 Header
1 x USB 3.1 Gen1 Type-C Header

External Connectivity
Network Interface Type Wired Gigabit LAN (10/100/1000)
Network Chip/Modules 1 x Intel (Gigabit LAN)
Rear I/O Connectors

1 x Center/Subwoofer Speaker Out
1 x HDMI 1.4
1 x Line In
1 x Line Out
1 x Mic-In
1 x Rear Speaker Out
1 x RJ-45
1 x S/PDIF-Out (Optical)
4 x USB 2.0
3 x USB 3.1 Gen1 Type-A
2 x USB 3.1 Gen2 Type-A
1 x USB 3.1 Gen2 Type-C

Additional Specifications
Water Cooled No
Cooling
QPI Speed N/A
Board Dimensions 305 x 244 mm

Additional Information
Model Number Z390 AORUS PRO
GTIN 4719331804312








Questions:
There are no product questions yet.
Please login to your account to post a question
Leave a comment