Customers Who Bought This Item Also Bought
select all
£89.99

£99.99 Save £10.00

£179.99

£199.50 Save £19.51
Gigabyte AMD B450 AORUS Elite Ryzen ATX Motherboard
Gigabyte B450 AORUS Elite, AMD B450, AM4, DDR4, 2x M.2, 2-Way CrossFire, Realtek GbE, USB 3.1 Gen1 Type-A, ATX
Manufacturers Code: B450 AORUS ELITE
EAN: 4719331803995


GIGABYTE B450 AORUS Elite - Ryzen ATX Gaming Motherboard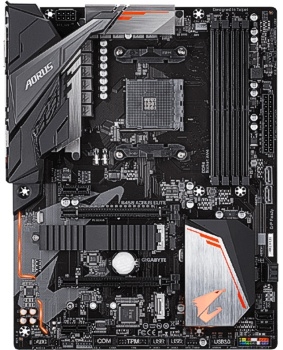 GO BIG WITH THE B450 AORUS Elite

The Gigabyte B450 AORUS Elite motherboard is optimised for AMD Ryzen series processors, boasts an overall high-quality performance which is perfect for gamers. Experience an extreme performance with Dual Channel DDR4 Ram Slots, 8-Channel HD Audio and a M.2 connector with Thermal Guard, AORUS M.2 Thermal Guard prevents rising heat damage, allowing users to enjoy the utmost reliable system performance.




Precision to Deliver Enhnaced System Performance

Hybrid digital power design

AORUS 400-series motherboards use Hybrid Digital PWM + Lower RDS(on) MOSFETs design to support the AMD Ryzen processors by offering incredible precision in developing power of the motherboard's most power-hungry and energy-sensitive components as well as delivering enhanced system performance and ultimate hardware scalability.

Thermal Guard with Dual M.2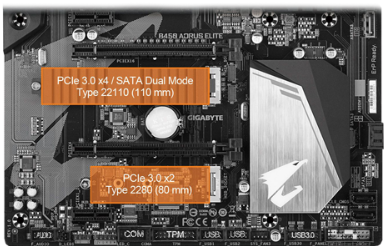 Prevent Throttling and Bottlenecks

Discover an extreme performance with M.2, available on the AORUS 400-series motherboards. With durability in mind, GIGABYTE provides a thermal solution for M.2 drives. The M.2 Thermal Guard prevents throttling and bottlenecks from M.2 devices as it helps to reduce and dissipate heat before it becomes an issue.

Immersive VR Gaming




DELVE INTO A NEW UNIVERSE

Gaming PCs deliver the best VR experience, enjoy a virtual world with VR technology as this requires more performance than Full HD graphics for a steady 90FPS or greater.

AMD StoreMI Technology

Experience the benefits of AMD StoreMI, which delivers an incredible SSD performance with HDD capacity affordable cost. With GIGABYTE 400-series motherboards make your PC fast and easy to optimise. Efficient computer responsiveness from system boot to application launch. StoreMI quickly automatically learns users' computing behaviours enabling quick access to key files.

Speed Up with Reliable Connectivity




Connecting the Future with USB Type-C

AMD 400-series chipset provides native USB 3.1 Gen2 ports with speeds up to 10Gbps. 2x faster than USB 3.1 Gen 1 along with backwards compatibility with existing USB devices.

Personalise LEDs with RGB Fusion




Multi-zone light show design

RGB Fusion allows more LED customisations than ever before, users can truly adjust their PC to embody their style. The redesigned RGB Fusion application enables you to completely control the LEDs, which surround the motherboard with even more styles and patterns with the smart mobile app, you can remotely access and control settings through your device. You can even set the LEDs to synchronize with your favourite music or have them change colours to indicate the CPU temperature. AORUS gaming motherboards supports either 5v or 12v digital LED lighting strips and up to 300 LED lights. RGB Fusion with Digital LEDs comes with nine new patterns and various speed settings with more to come.

Supports RGBW and UV Light Strips

Not bright enough? You can install standard 12V external RGB, RGBW or RGB/UV light strips on the RGBW pin header and control its colour from the RGB Fusion software. Using a RGBW light strip with a dedicated white LED, users will experience brighter and more vibrant shades of colours.

RGB/UV COLOUR
RGB/UV light strips can illuminate your PC with a fluorescent glow. With UV reactive cables, paint or liquid your PC can radiate with a luminous glow.

TRUE WHITE COLOUR
RGBW light strips can produce a pure white colour instead of mixing R/G/B to produce an inaccurate white.

RICHER COLOUR
With dedicated white LEDs, light strips can produce a richer and brighter colour on the colour scale.

RGB CALIBRATION
Different light strips sometimes have different RGB pin definitions, RGB Fusion software can relocate each pin location for the best compatibility.

Excellent Performance with Smart Fan 5 Software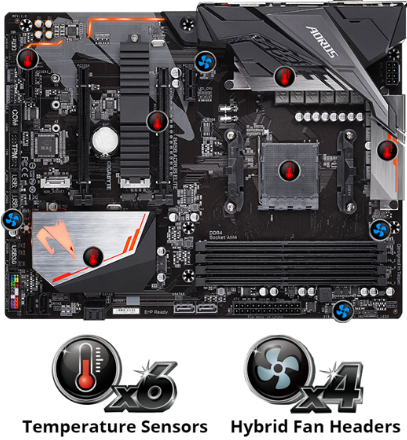 Efficient Cooling with Fan Control

Uphold performance while staying cool with Smart Fan 5, users are assured that their PC will stay cool whilst gaming. Smart Fan 5 enables users to interchange their fan headers to imitate different thermal sensors at different locations on the motherboard. Not only that, with Smart Fan 5 more hybrid fan headers that support both PWM and Voltage mode fans have been introduced to make the motherboard more liquid cooling friendly. Achieve fan silence with Fan Stop, ensuring the most customisable fan control based on accurate temperature readings.

Interoperable Sensors and Fans
Each fan can be customised to operate at different speeds according to any defined temperature source input (except the CPU fan).

Ultimate control with fan curve
Customize fan curves based on specific temperatures with the intuitive graphical UI.

Hybrid Fan Pin Headers

Smart Fan 5 obtains the latest information on flow-rate through the Hybrid Fan Pin Headers, ensuring you absolute control over your PC. All Hybrid Fan Headers can automatically identify the type of cooling device whether it be fan or pump with different PWM or Voltage mode.

GIGABYTE BIOS and Applications

REFRESHED BIOS
GIGABYTE has specially designed the BIOS to provide users the most premium experience while constructing their new system, with a new GUI and easier to use functionalities. The BIOS is crucial for users during initial setup to allow for the most optimal settings.

GIGABYTE APP Center
The GIGABYTE APP Center gives you easy access to a wealth of GIGABYTE apps that help you get the most from your GIGABYTE motherboard. Easily launch all GIGABYTE apps installed on your system, check related updates online, and download the latest apps, drivers, and BIOS.

3D OSD
3D OSD automatically detects and displays your system information during games, allowing you to easily get a hold of your system information without switching between screens.

AORUS EXCELLENCE

Each AORUS motherboard includes TriDef SmartCam software, remove backgrounds without the hassle of using a green screen. Through the SmartCam application you can now apply live filters, and fully control your background. Optimise and improve your connection with WTFast the Gamers Private Network (GPN). Cast your game anywhere and experience the greatest gaming moments with XSplit Gamecaster + Broadcaster. Host your game like a pro and with just one click stream your gameplay to Twitch, chat to fellow gamers and interact with social media integration.

Save power with one simple click with CEC Energy Saving technology. GIGABYTE motherboards can achieve lower power consumption under idle mode and fully comply with new CEC 2019 power consumption requirement.

TRIDEF® SMARTCAM
Using SmartCam you can now apply live filters, remove backgrounds, not only whilst streaming but also through other video applications.

WTFAST (GPN)
Enhance your online game performance with WTFast, the Gamers Private Network (GPN); which optimises your connection.

XSPLIT GAMECASTER + BROADCASTER
Cast your game anytime, anywhere with only one click. The fully optimised social media integration allows you to instantly connect for real-time chats.

Specifications

Edition B450 AORUS Elite
Form Factor ATX
CPU Socket AM4
Chipset AMD B450

RAM Memory Support
Memory Type DDR4
Memory Channel Dual (2)
Memory Type (ECC) ECC/Non-ECC
Memory Type (R/U) UDIMM (Unbuffered)
Memory Speed (Mhz)

DDR4 - 2133
DDR4 - 2400
DDR4 - 2666
DDR4 - 2933
DDR4 - 3200(OC)

Max. Memory Capacity 64GB

Audio
Audio Realtek ALC892 7.1 HD Audio

Graphics Support
Primary GPU Interface PCIe 3.0 (x16)
NVIDIA SLI Support Not Supported
AMD CrossFire Support 2-Way CrossFire
Integrated Graphics
On-Board Graphics Connectors

DVI-D
HDMI

Internal Connectivity
Expansion Slots

1 x M.2, 22-42/60/80, PCIe Gen3
1 x M.2, 22-42/60/80/110, PCIe Gen3/SATA
2 x PCIe 2.0 x1
1 x PCIe 3.0 x16
1 x PCIe 3.0 x16 (x4 Bandwidth)
6 x SATA 6GB/s

SATA Support SATA3
RAID Support via SATA
Storage Mode Support

RAID 0
RAID 1
RAID 10

Internal I/O

1 x 24-pin (Power)
1 x 8-pin (Power)
1 x Clear CMOS jumper
1 x CPU Cooler LED/RGB LED Strip Extension Header
1 x CPU Fan Connector
2 x Digital LED strip header
2 x Digital LED Strip Power Select Jumper
1 x Front Panel Audio Header
1 x Front Panel Connector
1 x RGB (RGBW) LED Strip Header
1 x S/PDIF-Out Header
6 x SATA III - 6Gb/s
1 x Serial (COM) Header
3 x System Fan header
1 x TPM 2.0 Header
2 x USB 2.0 Header
1 x USB 3.1 Gen1 Header

External Connectivity
Network Interface Type Wired Gigabit LAN (10/100/1000)
Network Chip/Modules 1 x Realtek (Gigabit LAN)
Rear I/O Connectors

1 x Center/Subwoofer Speaker Out
1 x DVI-D
1 x HDMI
1 x Line In
1 x Line Out
1 x Mic-In
1 x PS/2 Keyboard/Mouse Combo
1 x Rear Speaker Out
1 x RJ-45
1 x Side Speaker Out
4 x USB 2.0
4 x USB 3.1 Gen1 Type-A

Additional Specifications
Board Dimensions 305 x 235 mm

Additional Information
Model Number B450 Aorus Elite
GTIN 4719331803995









Questions:
There are no product questions yet.
Please login to your account to post a question
Leave a comment