Frequently bought together
Customers who bought this product also commonly purchased the following combination of items.
This Item: Gigabyte 17.3 inch P17F V7-CF1 Intel Kaby Lake i7 GTX 950M Gaming Laptop
Customers Who Bought This Item Also Bought
select all

Gigabyte 17.3 inch P17F V7-CF1 Intel Kaby Lake i7 GTX 950M Gaming Laptop
Gigabyte P17F V7-CF1 17.3 inch Windows 10 Gaming Laptop ( i7 7700HQ / 1TB / 128GB / 8GB DDR4 / GTX 950M )
Manufacturers Code: P17F V7-CF1
EAN: 4719331935306

Intel Core i7 7700HQ Processor
8GB DDR4 2133 Memory
GeForce GTX 950M Graphics
Optical Drive: DVD-RW
Massive 1TB 7200RPM HDD
128GB M.2 SSD
Windows 10 Home
NVIDIA® GeForce® GTX 950M Gaming Graphics
P17 features a speedy NVIDIA® GeForce® GTX 950M graphics processor. A total package of 2GB GDDR5 VRAM handles higher frame refresh rate with ease and is capable of rendering more detailed graphics when running resource - demanding titles. The P17 with NVIDIA® GeForce® GTX 950M gives you a solid edge over other competitors in gaming.

7th Gen Intel® Core™ i7 Processor : Here Comes the New Generation of Performance
With the latest "Kaby Lake" architecture, the 7th Generation Intel® Core™ i7 Processor outperforms its predecessor in every aspect, added with HEVC10b and VP9 decoding for outstanding 4K capabilities and extra extended mobility. Experience seamless next generation performance.

DDR4 - Data Storage's Limit Breaker
DDR4 is breaking through the limits of data storage. Better than its predecessor DDR3 in every way, DDR4 is essential for any high-resolution game, or data-intensive application. It runs at a frequency of 2400 MHz, which allows games to run faster and smoother like never before! DDR4 also possesses more storage with a max capacity of 16GB per stick, double that of DDR3. Whether you are gaming or working, DDR4 will be able to provide superior performance!

USB 3.1 - Upgraded Convenience
USB 3.1 brings twice the throughput of USB 3.0, transferring 100GB video in as little as 80 seconds. Being able to transfer data faster greatly improves any user's daily routine!

1080p Matte Display with 72% NTSC Color Gamut
The 1080p display grants brilliant vision and amazing details for premium viewing pleasure. The 72% NTSC color gamut ensures vivid reproduction of vivid colors, rendering startling and clear images. The fully upgraded P17 makes a great partner either for engaging gaming or immersive audiovisual experience.

XSplit Gamecaster + Broadcaster: Cast Your Game Anytime Anywhere
Now set up the stage and share your greatest gaming moments with XSplit Gamecaster + Broadcaster! Fully optimized social media integration is ready for real-time chats - keeping you notified yet focused in the game. It takes just one click to stream your gameplay to Twitch. Host your game like a pro! The show starts wherever you flip open your P17!
*Free 3-month XSplit Gamecaster + Broadcaster Premium License

TriDef® SmartCam | Custom Stream Modding
To facilitate being the full streaming solution each AORUS includes TriDef® SmartCam software, you are now able to remove backgrounds without the hassle of using a green screen. Through the SmartCam application you can now apply live filters, and fully control your background, not only while streaming, but also through other video applications such as Skype.
*Free 90-day TriDef SmartCam License.

Flexikey - Take full control of your Keyboard
The Flexikey accommodates different style and approach from different gamers. The all-new feature now not only allows you to create customized macros or actions for each individual key on the keyboard and the external mouse, giving you the upper hand during gaming sessions. The Flexikey also records your key press frequency stats that helps you improve through each match, giving you a tactical advantage for victory.

Re-live Your Games with Sound Blaster™ Cinema 2
Sound Blaster™ Cinema 2 includes professionally-tuned presets to deliver exceptional audio experiences. With SBX Surround, an improved surround algorithm expanding the virtual surround spaciousness, you are off to enjoy cinema-quality sound when on the move. SBX Dialog Plus enhances the voice quality for clearer dialog, allowing the listener to hear the dialog over the rest of the soundtrack and over ambient noise in the listening environment.

2.2mm Key Travel Full-Sized Chiclet Keyboard
The full-sized chiclet keyboard creates snappy yet responsive typing experience for long-hour operation. The independent numeric keyboard brings desktop experience to your laptop, improving typing experiences while eliminating mistypes. The 2.2mm key travel offers great typing experience similar to that on desktop systems. Crispy typing is now a standard to P17.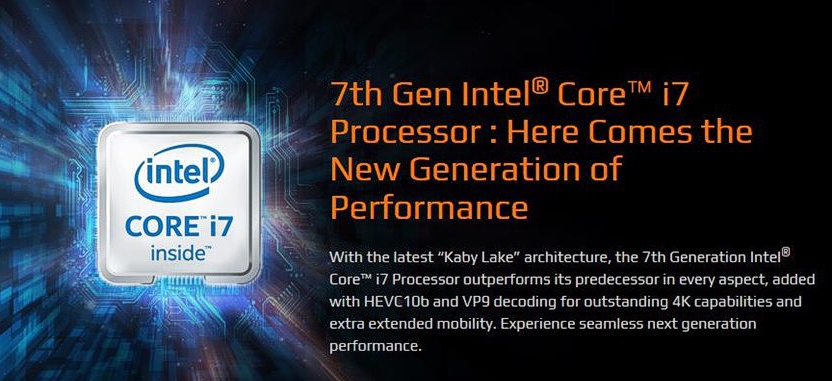 Main Features:

NVIDIA® GeForce® GTX 950M
7th Gen Intel® Core™ i7 Processor
M.2 SSD - Storage Speed in Overdrive
DDR4 - Data Storage's Limit Breaker
1080p Full HD Matte Display with 72% NTSC Color Gamut
XSplit Gamecaster + Broadcaster Streaming Software
Flexikey - Take Full Control of Your Keyboard
Sound Blaster™ Cinema 2 Audio Optimization
Full-Sized Chiclet Keyboard: 2.2mm Key Travel
Specifications:

Processor Intel Core i7-7700HQ Quad Core (2.8GHz, 6MB Cache, Intel Turbo Boost up to 3.8GHz)
Screen 17.3" (1920x1080 Full HD Resolution)
Operating System Microsoft Windows 10 Home 64-bit
RAM 8GB (DDR4 2133MHz)
Solid State Drive 128GB SSD
Hard Drive 1000GB (7200RPM)
Optical Drive Hot Swappable Storage Bay (Includes DVD Rewriter Drive & Weight Saver Bay to install Hard Drive/SSD)
Graphics Dedicated (NVIDIA® GeForce® GTX 950M with 2GB GDDR3 Dedicated Memory)
Wireless LAN Wireless (802.11b/g/n Wireless)
Bluetooth Bluetooth 4.0
Network Card 10/100/1000 Gigabit Fast Ethernet
Integrated Webcam Integrated HD Webcam with Microphone
Card Reader SD Card Reader
USB Ports 2x USB 3.1 Type A, 1x USB 3.0, 1x USB 2.0
Speakers Integrated Sound System
Charge Time 2.5 Hours
VGA Port 1 External VGA Port
HDMI Port 1 x HDMI Port
Warranty Gigabyte 2 Year Collect & Return Warranty (View More Information)
Battery Life 3-4 Hours (up to 4 hours with power management)
Weight 3-4 Kg (This Model 3.1 Kg)
Product Type Gaming Laptops
Keyboard Type Laptop Keyboard
Colour Black

Please note: Battery life depends on usage. We quote maximum battery life as stated by the manufacturer. Some machines may achieve substantially less whilst running demanding applications. Pictures are for illustration only. Please contact us if you wish to confirm the specification before ordering.






Questions:
There are no product questions yet.
Please login to your account to post a question
Leave a comment