Customers Who Bought This Item Also Bought
select all
Corsair VS Series 650 Watt Fully Wired 80+ White PSU/Power Supply
650W Corsair VS650, Fully Wired, 80 PLUS White, Single Rail, 52A, 120mm Fan, ATX PSU
Manufacturers Code: CP-9020172-UK
EAN: 0843591033336
2x Molex Connectors
7x SATA Connectors
2x PCIe Connectors (6+2-Pin)
4 + 4-Pin CPU Power Connector
ATX Form Factor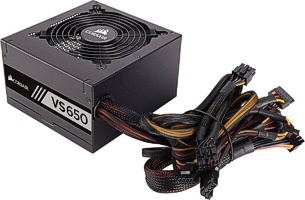 CORSAIR VS 650W POWER SUPPLY
This VS series power supply has 650W of guaranteed power and is perfect for home or office system build.
The VS650 offers 80 PLUS efficiency allowing you to enjoy lower energy bills.
The built in 120mm fan is thermally controlled, so only spinning when its pushed hard.
The black powder coated enclosure allows the power supply to go well in any system case.
VS FULLY WIRED CABLE DESIGN
The fully wired cable setup on the VS650 is designed to make it extremely simple to install.
The black-sleeved cables give the PSU the ability to give any system the high-tech feel.
A super-compact 125mm deep housing fits in almost any modern PC case for maximum compatibility.
THERMALLY CONTROLLED 120MM FAN
The 120mm fan is thermally controlled, so it only spins up when needed, and is quiet even at full load.
The VS650 is 80 PLUS rated for greater efficiency, so it generates less heat, and you'll enjoy lower energy bills.
Corsair Reliability
3 YEAR GUARANTEE
The VS650 is backed with a comprehensive three-year warranty including legendary CORSAIR technical support and customer service.
Power Output Connectors:
1 x power 24 pin ATX with detachable 4 pin section
1 x power 8 pin EPS12V
2 x 8 pin PCI Express power with detachable 2 pin section
7 x 15 pin Serial ATA power
2 x 4 PIN internal power
1 x 4 PIN mini-power connector
Specifications:
Size ATX
Edition VS650
Wattage 650 W
80 PLUS Certification 80 PLUS White
Max. Efficiency
Cooling Fan
Fans 1 x 120mm
Internal +12V Rails Single Rail
Rail 1 +12V 52 A
Rail 2 +12V N/A
Rail 3 +12V N/A
Rail 4 +12V N/A
Rail 5 +12V N/A
Rail 6 +12V N/A
Max. Combined Output +12V 52 A
Modular No
Modularity Fully Wired
SLI/CrossFire Yes
EPS 12V Yes
Motherboard Connector 24-pin
Connectors
1 x 4+4-pin ATX 12V
2 x 4-pin Molex
2 x 6+2-pin PCIe
1 x FDD Power
7 x SATA
Dimensions 125 x 86 x 150 (WxHxD)
Package Type Retail
Questions:
There are no product questions yet.
Please login to your account to post a question
Leave a comment