Customers Who Bought This Item Also Bought
select all
Corsair 650W TX650M Gold Hybid Modular Power Supply / PSU
650W Corsair TX-M Series TX650M PSU, 80PLUS Gold, Hybrid Modular, Single Rail, 51A + 12V, 120mm Fan, ATX PSU
TX-M Series TX650M - 650 Watt 80 Plus Gold Certified PSU
Manufacturers Code: CP-9020132-UK
EAN: 0843591091213


The CORSAIR TX-M Series power supplies provide industrial build quality, 80 PLUS Gold efficiency, extremely tight voltages and a semi-modular cable set.

Efficient cooling Keep your PC running smoothly with the Corsair TX650M Semi-Modular ATX PSU . With an 80 Plus Gold certification, it prevents power from being turned into unnecessary heat. That means you can run heavy games or video-rendering software while your PC stays efficient. Thanks to its 120 mm integrated fan, the Corsair TX650M keeps cool even when you're browsing for extended periods. And at a quiet 22 dB, you can complete every project without distractions. Semi-modular The semi-modular design of the Corsair TX650M reduces clutter in your freshly-built PC, and maximises its air intake to cool your PC down. No unnecessary cables leading to nowhere ¿ with a semi-modular PSU, you only plug in the cables you're going to use.

TX650M - Corsair Power Supply - Hybrid Modular ATX PSU




Corsair TXM 650W Power Supply

For basic desktop systems the TXM series semi-modular power supplies are ideal and give you low noise and energy, with a power output of 650W this PSU is ideal to run an entry level PC. All the capacitors are 105°C rated Japanese brand to ensure a solid power delivery. The super-efficient operation of the TX650M generates less heat giving it an 80PLUS Gold rating.

Hybrid Modular Connectivity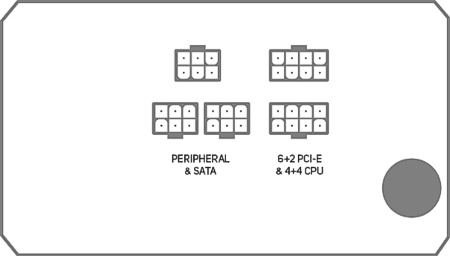 TXM Hybrid Modular Cable Design

The flat, sleeved black cables are modular, so you'll only use the cables you need and you'll get great-looking results. The clearly-marked connectors make installation fast and straightforward.

Corsair Engineering and Quality Control

Every CORSAIR power supply is designed by our California engineering team and built to our exact specifications. The same care that goes into the design and testing of our renowned high-power enthusiast power supplies also goes into the TX-M Series semi-modular, because you need confidence and reliability regardless of your build budget.

Corsair TX650M Output Power Chart




Corsair TX650M Key Features

80 PLUS Gold Certified
Gold certification ensures high efficiency operation for less excess heat and lower operating costs.

Japanese 105 C capacitors
Premium internal components ensure solid power delivery and long term reliability.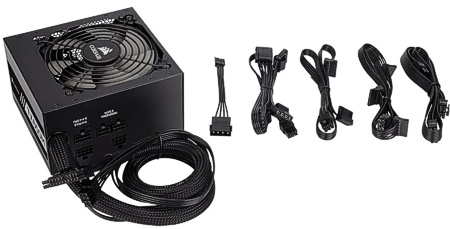 Specifications:

Size ATX
Edition TX650
Wattage 650 W
80 PLUS Certification 80 PLUS Gold
Max. Efficiency (at 230Vac) 90 %
Cooling Fan
Fans 1 x 120mm
Internal +12V Rails Single Rail
Rail 1 +12V 51 A
Rail 2 +12V N/A
Rail 3 +12V N/A
Rail 4 +12V N/A
Rail 5 +12V N/A
Rail 6 +12V N/A
Max. Combined Output +12V 51 A
Modular Yes
Modularity Hybrid Modular
SLI/CrossFire No
EPS 12V Yes
Motherboard Connector 20+4-pin
Connectors

1 x 4+4-pin CPU +12V (EPS)
1 x 4-pin FDD Power
4 x 4-pin Molex
2 x 6-pin PCIe
4 x SATA

Dimensions 150 x 86 x 140 (WxHxD)
Package Type Retail

Additional Information
Model Number CP-9020132-UK
GTIN 0843591091213



Questions:
There are no product questions yet.
Please login to your account to post a question
Leave a comment