Corsair 650 Watt RM650x Series Fully Modular ATX Power Supply - 80 Plus Gold Certified
RMx Series RMx650 650W '80 Plus Gold' Modular Power Supply - CP-9020178-UK
650W Corsair RMx Series RM650x, Full Modular, 80PLUS Gold, SLI/CrossFire, Single Rail, 54A, 140mm Fan, ATX PSU
Manufacturers Code: CP-9020178-UK
EAN: 0843591050678
Prepare your PC for the latest component upgrades with the Corsair RM650x Modular PSU . With 650 W of power this modular PSU is ready to run powerful PCs with high-end graphics cards such as the NVIDIA GeForce RTX 2070. Its modular design means it's great for upgrades or new builds as you can manage the cabling the way you want. Corsairs' RMx series is designed to deliver extremely consistent power to prevent power spikes or drops in the middle of a session. Despite this, it has still manages an 80 PLUS Gold rating which certifies it doesn't waste energy or get overly hot. Zero Fan Mode cuts the sound of the fans to 0 dB when your PC isn't running under full load - great for watching films without distraction.

Corsair RM650x Power Supply - Fully Modular - 80 Plus Gold Certified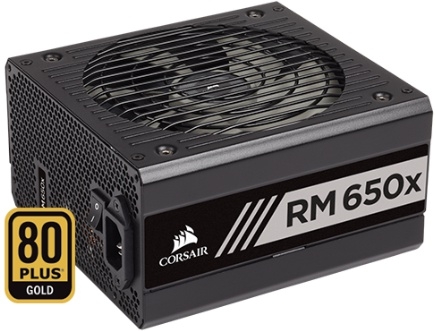 Corsair RMx 650W Power Supply

CORSAIR RM650x series power supplies are built with the highest quality components to deliver 80 PLUS Gold efficient power to your PC to reduce costs and excess heat. Fully modular cables make PC builds and upgrades easy, as you only need to install the cables your system requires. Zero RPM Mode means an RM650x series PSU is virtually silent at low and medium loads, and even at maximum power, a low noise fan ensures quiet operation. Quiet, efficient and dependable, an RM650x PSU has everything you need to power your high-performance PC for years to come.

Fully Modular Connectivity




Keep Your Build Looking Clean

The fully modular design of the RMx power supply means that during your build you can mount the PSU in the case first and then attatch only the cables you need, making builds and upgrades easy with great looking results. Simply connect the cables you need and keep the rest safe for future upgrades.


Ten Year Warranty

A 160mm-long casing ensures an easy fit in almost all modern enthusiast PC cases. Your guarantee of reliable operation that will last across several system builds.

Completely Modular




Build Like a Pro

Only connect the cables your system needs, making clean and tidy builds easier whilst improving airflow.

Corsair RM650x Key Features

Corsair Quality

80 PLUS Gold Certified
Gold certification ensures high efficiency operation for less excess heat and lower operating costs.

Japanese 105°C capacitors
Premium internal components ensure solid power delivery and long term reliability.

Zero RPM Fan Mode
Fan doesn't turn on until it's needed, so you'll enjoy virtually silent operation at low and medium loads.

Corsair 10 Year Guarantee
Your guarantee of reliable operation that will last across several system builds.

Specifications:

Size ATX
Edition RMx Series 2018 RM650x
Wattage 650 W
80 PLUS Certification 80 PLUS Gold
Max. Efficiency (at 230Vac) 92 %
Cooling Fan
Fans 1 x 140mm
Internal +12V Rails Single Rail
Rail 1 +12V 54 A
Rail 2 +12V N/A
Rail 3 +12V N/A
Rail 4 +12V N/A
Rail 5 +12V N/A
Rail 6 +12V N/A
Max. Combined Output +12V 54 A
Modular Yes
Modularity Full Modular
SLI/CrossFire Yes
EPS 12V Yes
Motherboard Connector 20+4-pin
Connectors

1 x 4+4-pin CPU +12V (EPS)
1 x 4-pin FDD Power
4 x 4-pin Molex
4 x 6+2-pin PCIe
9 x SATA

Dimensions 150 x 86 x 160 mm (WxHxD)
Package Type Retail

Additional Information
Model Number CP-9020178-UK
GTIN 0843591050678
Questions:
There are no product questions yet.
Please login to your account to post a question
Leave a comment