Corsair 280mm H115i ELITE CAPELLIX RGB Intel / AMD CPU Liquid Cooler
Corsair H115i ELITE CAPELLIX RGB AIO Cooler, 2x 140mm ML140 RGB PWM Fans, Copper Heatsink, Aluminium Radiator, Intel/AMD
Manufacturers Code: CW-9060047-WW
EAN: 840006618768


280mm H115i ELITE CAPELLIX RGB CPU Liquid Cooler from CORSAIR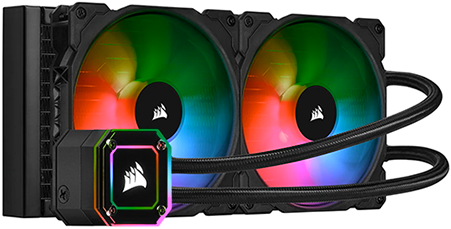 Cooling With Stunning Ambience

The CORSAIR ICUE H115i ELITE CAPELLIX Liquid CPU Cooler offers powerful, low-noise cooling for your CPU. It comes with an excellent radiator and stunning CORSAIR RGB Magnetic Levitation PWM fans that can be controlled between 400 RPM and 2400 RPM. 33 Ultra-bright CAPELLIX LEDs on the pump head and eight RGB LEDs per fan let you completely personalize your cooler's look.
Connect to the included CORSAIR iCUE Commander CORE and powerful CORSAIR iCUE software to orchestrate synchronized RGB lighting, adjust fan speeds, and enable Zero RPM mode on up to six fans.
You can easily install the cooler on most major CPU sockets, with a thermally optimized split-flow cold plate and low-noise centrifugal pump for remarkable performance.
This impressive cooler has a modular, tool-free mounting bracket for quick and painless installation on modern Intel and AMD sockets.

Intel LGA 115X / 2011-3 / 2066 : AMD Sockets AM2 / AM3 / AM4 / TR4 / TRX4 : 280mm Radiator Size

Heat Dissipation at its Best

Split-Flow Copper Cold Plate
An optimal cold plate design and a high-density stack of 128 micro-skived fins-per-inch provides highly efficient cooling at all loads.

Made with Silence in Mind

Low Noise Centrifugal Pump
Delivers a flow rate of up to 0.82L/min while generating less than 20 dBA, for extreme cooling with low noise.

Change the Pump Caps to Suit your Rig

Change Up Your Look
Each ELITE CAPELLIX CPU cooler includes two separate pump caps. The pre-installed pump cap is a stylish, glossy black, while the alternate pump cap is more transparent to let your CAPELLIX LEDs shine through.

Turn any Case into a Smart Case

Take Control Of Your Fans
Harness the power of iCUE with the included iCUE Commander CORE to control the fan speed and RGB lighting for the included ML RGB fans, with the potential to control additional CORSAIR RGB fans, up to a total of six.

*Additional fans sold separately.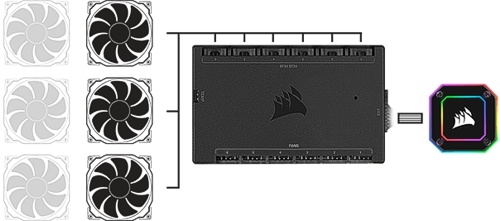 Fully Customize the Colour of your Fans




Powerful Corsair ICUE Software
Adjust fan and pump speeds, control and synchronize your cooler's RGB lighting with all iCUE-compatible devices, and monitor CPU and coolant temperatures, all from a single intuitive interface.

Excellent Cooling with Style

Magnetic Levitation RGB Fans
CORSAIR ML RGB Series PWM fans deliver powerful airflow for extreme CPU cooling performance, with eight RGB LEDs per fan.

Cooling with Zero Noise

ZeroRPM Mode
Zero RPM cooling profiles in CORSAIR iCUE software allow fans to stop entirely at low temperatures, eliminating fan noise.

See CORSAIR's Cooling in Action



Specifications

Edition iCUE H115i ELITE CAPELLIX
Cooler Form Factor 280mm All-In-One Hydro Cooler
Heatpipes N/A
Cooler Features

Aluminium Fins
Control via Corsair iCUE Software
Copper Base
RGB LED CPU Block
Zero RPM Mode

Socket Compatibility

1150
1151
1155
1156
1200
2011
2011-3
2066
AM2+
AM3
AM4
TR4
TRX4

Max. TDP

Fan Specifications
Included Fan Configuration 2 x 140mm w/ Addressable RGB LEDs
Fan Edition Corsair ML120 Magnetic Levitation PWM
PWM Fan Yes
Fan Bearing Type Magnetic
Fan Colour Black
LED Lighting Addressable RGB
Fan/Pump Connectors 2 x 4-pin
Max. Fan Speed 400 ~ 2000 rpm
Max. Fan Airflow 63 CFM
Max. Air Pressure 0.2 ~ 3.0 mm H²O
Max. Sound Level 10 ~ 36 dBA

Materials
Cooler Materials Aluminium / Copper
Included TIM (Thermal Interface Material)

Dimensions & Weight
Heatsink/Radiator Dimensions
Total Dimensions
Weight 1050 g

Additional Information
Model Number CW-9060047-WW
GTIN 840006618768


































Questions:
There are no product questions yet.
Please login to your account to post a question
Leave a comment