Customers Who Bought This Item Also Bought
select all
Techtribe NZXT Virtual01 Intel i5 Skylake, 8GB RAM, 2TB HDD, 120GB SSD, GTX 970 4GB Graphics Gaming/VR PC - Windows 10
Manufacturers Code: NZXT VIRTUAL01
EAN: 0641243390246

Virtual Reality Gaming PC with NVIDIA GeForce GTX 970 graphics and Intel Core i5 6600K processor!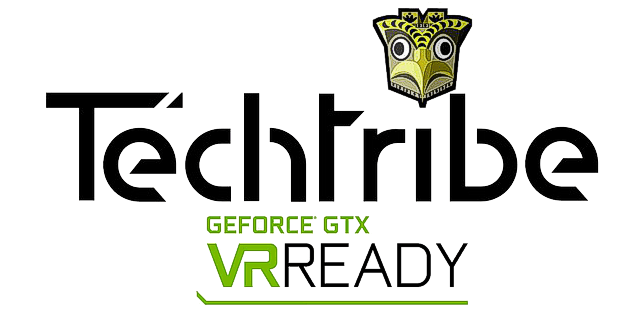 The Techtribe Virtual01 is our upper mid-level Virtual Reality gaming PC, and comes equiped with the latest 6th Gen quad-core Intel Core i5 6600K CPU.
Graphics processing is provided by a Gigabyte 4GB NVIDIA GeForce GTX 970 OC graphics card. Other core components include 8GB of 2133MHz Kingston HyperX Fury DDR4, an Asus Z170-P motherboard and a 120GB SSD.
This is all placed in to a NZXT H440 New Edition Black/Black Chassis for optimum cooling and also has a TX3 EVO CPU Cooler Heatsink & Fan to keep that i5 6600K CPU at an optimum temperature.
The case used for the NZXT Virtual 01 is renowned for its clean design and innovative feature set, this pc is in a stealthy Matte Black / Black color and has an additional side window.
Taking feedback from the gaming community this case has applied highly requested feature updates and a renewed emphasis on cooling performance, function and a classy look with a unbeatable build quality.

Configuration (components that make this PC):

NZXT H440 New Edition Black/Black Chassis with Side Window
Gigabyte GTX 970 Twin Turbo 4GB OC NVIDIA Graphics Card
Asus Z170-P Intel Skylake S 1151 Crossfire ATX Motherboard
Intel Core i5 6600K Unlocked Skylake Desktop skt1151 Processor / CPU
CoolerMaster Hyper TX3 EVO Intel AMD Processor Cooler
Thermaltake Berlin 630W 80+ PSU
2TB Internal SATA3 6GBS 7200rpm with 64MB Cache Hard Drive
120GB SSDNow 2.5inch SATA SSD
Microsoft Windows 10 Home 64-bit
Kingston HyperX Fury 8GB, DDR4, 2133MHz Desktop Memory Module
NOTE: No optical drive/bay installation capability on this chassis/case

A gaming PC with great looks, truly amazing performance and a fantastic price!
Powered by Asus. Driven by Intel i5 Skylake.

Techtribe
THIS IS MY GAMING PC.
THERE ARE MANY LIKE IT,
BUT THIS ONE IS MINE!

Quality Virtual Reality / Gaming PC from Techtribe!

Need a monitor ? - Simply select what size monitor you require and add to your order - available seperately at low prices from our web site - CLICK HERE TO VIEW MONITORS

Techtribe is a new exciting UK manufacturer of PC units using only quality components from worldwide known brands.

Designed to offer the best value, without sacrficicing on quality, these PCs won't have any problems playing the latest AAA games.
Techtribe Mid Level Virtual Reality Gaming PCs have a range of features and are designed specifically for Virtual Reality & Gaming - you won't get the renamed office computers that some other system builders offer.

Not only that, it looks so amazing, your friends will be queuing up just to catch a sneaky peek at it.

Back Panel I/O Ports:

1 x PS/2 keyboard port
1 x PS/2 mouse port
1 x HDMI port
1 x DVI-D port
1 x LAN (RJ45) ports
2 x USB 3.0/2.0 ports (blue, Type A)
1 x USB 5Gb/s Type C port
2 x USB 2.0/1.1 ports
3-Jack 8-Channel Audio I/O ports

Top of Case I/O Ports:

I/O Panel: USB3.0 x 2, USB 2.0 x 2, Audio / Mic x 1

What's Included:

Techtribe NZXT Virtual01 Base Unit
1 Year RTB Manufacturers Warranty - Software or damage are not covered by warranty
All relevant driver discs
All relevant manuals





Questions:
There are no product questions yet.
Please login to your account to post a question
Leave a comment