Customers Who Bought This Item Also Bought
select all
Palit NVIDIA GeForce GTX 1080 8GB GameRock Graphics Card
Palit NVIDIA GeForce GTX 1080 8GB GameRock Graphics Card - NEB1080T15P2-1040G
NEB1080T15P2-1040G - Palit GeForce GTX 1080 GameRock 8GB GDDR5X VR Ready Graphics Card, 2560 Core, 1645MHz GPU, 1784MHz Boost
Manufacturers Code: NEB1080T15P2-1040G
EAN: 4710636269028
Palit GeForce GTX 1080 GameRock 8GB GDDR5X Dual-Link DVI HDMI 3x DisplayPort PCI-E Graphics Card
NVIDIA GeForce GTX 1080 GPU
Palit GameRock Edition
8GB GDDR5X Memory
PCI-Express Interface
VR Ready
The brand new gaming series, Palit GameRock is specially designed for enthusiast gamers who desire to have the ultimate gaming experience. GameRock series provides the best gaming features, the best thermal solution and the best graphics card quality, make you become a real game rocker without any fears.

Palit GameRock GTX 1080

GameRock from Palit is a new series of gaming specific graphics cards. This GTX 1080 has striking graphical power, combining that with its clever design and cooling capabilities makes for potent graphical performance output. Boasting clever fan design and a copper base among other useful aspects, the GameRock 1080 will run top-end games fluently and sure to immerse you in crisp detail filled worlds.

LEDs For Styling Your GTX 1080

GameRock 1080 graphics cards feature an RGB LED running along its outter edge. Besides adding more style to your 1080 card and case it can be attuned to have a functional purpose. By utilizing the enormous colour count (16.8 million) this Palit 1080 GPU can show you what temperature it is currently at, by changing LED colour to symbolize various temperatures. On the other hand you could use the glow purely for style preference and personlize your PC.

Enhanced 1080 Card Protection

This 1080 addorns a stylish Backplate that has beend esigned with high protective function in mind. The idea of the Backplate is to prevent damage to the card itself incase it suffers any physical damage. It also boasts the GameRock logo to bring more style to an already well designed GTX 1080.

Advanced GameRock GPU Cooling

GameRock graphics cards bring a whole new design to their 1080 that adds an additional 22% more fin along with a large size copper base. The base is directly adhered with the 1080 GPU and heatpipes, making the GameRock 1080 perform a lot better than previous designs.

Enhanced GameRock 1080 Stability

The 8 phases for those 2560 cores provides unlimited power and minimized current loading for each phase to stabilize the voltage level. This means the overall efficiency of this 1080 from Palit can be improved, the choke noise and EMI noise can also be reduced, for a more immersive experience.

GameRock 1080 Eradicating Errors

If the GameRock 1080 GPU comes across an error in one of the BIOS programs then it is designed to activate the dual BIOS program automatically. When the program kicks in it'll allow the Palit 1080 graphics card to be functional again in the event of a system failure.

Keeping GameRock 1080's Cool

The design of honeycomb bracket increases the GameRock 1080's airflow by up to 15%, allowing the heat generated from GPU to be exhausted via the 1080's honeycomb design bracket. This in-turn enables more efficient cooling effects.

Graphics Card Cooling When Required

Keep this 1080 gaming card silent while you are experiencing the multimedia application and general workload. The operating fans only occurs while working on heavier loading such as gaming, when this Palit 1080 GPU temperature surpasses 50°C.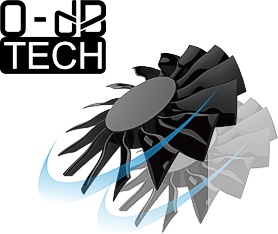 GTX 1080 Fan Power

A Dual Fan design offers double the cooling performance, and combined with the 10CM-10CM Smart Fans, heat is effectively drawn away from hot spots of the GTX 1080.

Turbo Palit GPU Fans

Inspired by the power of jet engines, the TurboFan Blade is designed to improve cooling performance by generating a powerful air stream and air pressure to the GPU .

Experience Palit's 4K Immersion

With HDMI and DisplayPort ports connected to this GameRock GTX 1080, it can provide a flawless, jaw dropping experience at Dual 4K monitors. Revel in detail filled game worlds with Palit's 1080 GPU and its immense graphic power.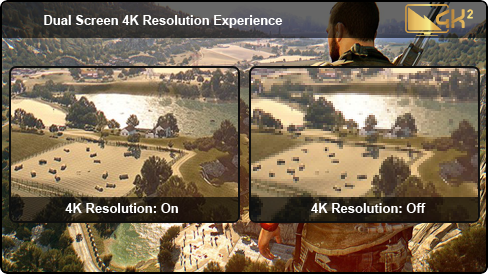 Pushing the Palit GTX 1080 Further

DrMOS, originally only available for high-end server CPUs but is now available in all its glory in the next generation of Palit graphics cards. DrMOS offers high current circuits, low noise operation, and effective reduction of heat generating.

Improved 1080 Card Cooling

The 1080 GameRock graphics card features dual fans that rotate in opposite ditrections. This 10CM-10CM Smart Fan system roatates the adjacent fans in different directions to reduce airflow conflicts in the 1080, and effectively improving the overall cooling performance.

Take Control of the Palit GTX 1080

ThunderMaster is a utility program, used with the GameRock 1080 graphics card under windows. It provides you with the ability to boost this GTX 1080 card and to monitor the GPU information - which will only function correctly in conjunction with your new graphics adapter.

GTX 1080 CONNECTIONS (see image above)

HDMI 2.0b / 3x DisplayPort 1.4 / Dual-Link DVI (

Special Features:

Simultaneous Multi-Projection
VR Ready
6nm FinFET
NVIDIA Ansel
NVIDIA SLI w/HB Bridge Support
NVIDIA G-SYNC
NVIDIA GameStream
NVIDIA GPU Boost 3.0
Microsoft DirectX 12
Vulkan API
OpenGL 4.5 Support
PCIe 3.0

Specifications:

Manufacturer: Palit
Chipset: GeForce GTX 1080
Edition: GameRock
Manufacturing process: 16 nm
Microarchitecture: Pascal
Cores: 2560
Streams: N/A
Core Clock: 1645 MHz
Boost Clock: 1784 MHz
Memory Size: 8GB
Memory Type: GDDR5X
Memory Clock: 10000 MHz
Memory Bus: 256 Bit
Cooling Solution: Dual Fan (2)
Cooler Design: Palit Dual Fan
Included/Fitted Backplate: Yes
Interface: PCIe 3.0 (x16)
Connectivity: 3 x DisplayPort 1.4 1 x DVI-D DL 1 x HDMI 2.0b
Maximum Digital Resolution: 7680x4320 @ 60Hz
Maximum Analog (VGA) Resolution: N/A
Max. Concurrent Displays: 4 Displays
NVIDIA SLI Support: 2 Way SLi with High Bandwidth Bridge Support
GeForce GTX VR Ready: Yes
Microsoft DirectX Support: 12 API with Feature Level 12.1
HDCP Ready: Yes
Width: 2.5 Slot
Low Profile Compatible: No
Low Profile Support: N/A
Graphics Card TDP/Power: 200W
Graphics Card Power Connectors: 1 x 6-pin PCIe 1 x 8-pin PCIe
Minimum Recommended PSU: 500 W
Maximum GPU Temperature: 94 °C
Dimensions: 133 x 285 mm
Package Type: Retail

Package Contents:

GeForce GTX 1080 GameRock Card
Manual
Power Cable
Support Disk


Questions:
There are no product questions yet.
Please login to your account to post a question
Leave a comment