Customers Who Bought This Item Also Bought
select all

CIT Connect RGB Colour USB Wired PC Keyboard with Phone Rest and USB Hub
CIT Connect RGB USB Wired PC Home/Office/Gaming Keyboard
CiT Connect RGB Wired Gaming Keyboard, 7 Colour Back-Lit, USB 2.0, Black, USB Passthrough, Mobile Holder, 4 Macro Keys
Manufacturers Code: CITCONNECT
EAN: 5055492407894


The CiT Connect gaming keyboard is made using rubber dome switches, the strong, crisp and tactile feel enables you to execute commands much faster than previous CiT keyboards. Designed for gamers and those that spend long periods of time on there computer, the Connect has device storage, various colour modes, USB pass-through port and much more.

With a seven colour RGB backlight and several different LED modes ensuring the Connect looks the part in any gaming set up. Easily change, adjust the LED brightness and LED running speed.

Twelve multimedia functions are included to easily access media player activities, press FN + F1-F12, swap the cursor keys and WASD keys by pressing FN + W for game play. Anti-ghosting keys makes sure every press is registered and four macro recording keys ensures you will have your best combinations ready for when it matters.

An integrated mobile cradle holder is included along with an extra USB hub allowing to connect to other media storage devices and spill resistance, protects the Connect from *water damage.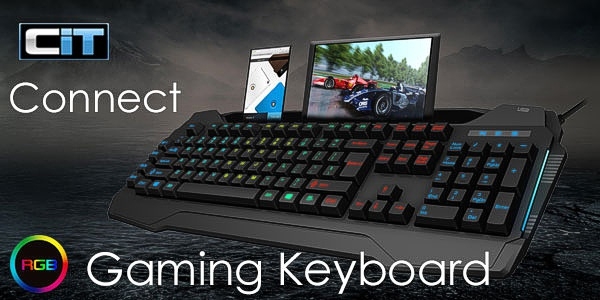 Key Features

Quiet and Responsive Keys - The Connect is a gaming keyboard with rubber dome switches, offers minimum noise and a satisfying feel while you work or game without sacrificing your performance.

Programmable Macro 4 G-Keys - Assign single keystrokes or complex multi-key combos to any of the dedicated macro keys, on-the-fly, without any additional software required to be installed.

Multi-Key Anti-Ghosting - Anti-ghosting for 26 keys in total mean your commands and simultaneous key strokes register the way you intended.

Wrist Rest - A wrist rest provides additional comfort to support your game play during marathon gaming sessions.

Dynamic RGB Backlighting - Customise your keyboard the Connect has the option to light up 7 different colours, colours include Red, Blue, Green, Cyan, White, Purple & Yellow. Choose between multi-colour or static lighting and game in style.

Music and Voice Indicators - Built in voice indicators to get your RGB lighting to follow your sounds or your gaming environment, have a colour to suit your mood.

USB Pass-Through Port - Positioned for uninterrupted game play and ready for your mouse or wireless, connect without any fuss.

Integrated Mobile Cradle Holder - Running along the top of the keyboard an integrated mobile cradle holder allowing you to concentrate on what's important without missing out on anything.

Braided Cable - The USB connector comes with braided cable offering excellent durability and will last a lot longer then a standard cable.

Specifications

Connectivity: USB
Keyboard Qty: 105 (4 Macro Keys)
Cable Length: 1.75m
LED Colour: 7 (Red, Green, Blue, Cyan, White, Purple & Yellow)
Working Power : 5V=200mA
M.T.B.F: 10 Million Keystrokes
Multimedia Functions: 12 (FN + F1-F12)
F1: Open Default Media Player Program
F2: Decrease System Volume
F3: Increase System Volume
F4: Mute System Volume
F5: Play Previous Media Track
F6: Play Next Media Track
F7: Play Or Pause Current Media Track
F8: Stop Current Media Track
F9: Open Home Page
F10: Open Default E-mail Program (Not Web-Mail)
F11: Open My Computer
F12: Open My Favourite
Anti-Ghosting: 26 Keys
Key Elasticity: 55g ± 7g
Pre-Travel Distance of Keys: 3mm
Total Travel Distance of Keys: 5.5mm
Working Environment Temperature: 0°C to 45°C
Operating Humidity: 20-90%
Working Voltage: 5V
Working Current: 200mA (300mA max.)
Software Compatibility: Windows 2000 / XP / ME / 7 / 8 / 10 / MAC OS / Android / Linux





Questions:
There are no product questions yet.
Please login to your account to post a question
Leave a comment