ASRock Radeon RX 5700 XT Challenger Pro 8G OC Triple Fan Graphics Card
Radeon RX 5700 XT Challenger Pro 8G OC
ASRock Radeon RX 5700 XT Challenger Pro 8GB Graphics Card
Manufacturers Code: RX5700XT CLP 8GO
EAN: 4710483932274
PRE-ORDER
STOCK DUE MONDAY 23.11.20
Any order containg this product will be shipped by your selected delivery method on 23.11.20


Key Specification
AMD Radeon RX 5700 XT Graphics
2nd Gen 7nm GPU
8GB 256-bit GDDR6
3 x DisplayPort, 1 x HDMI
2 x 8-pin Power Connectors
279 x 118 x 52 mm (without bracket)
291 x 133 x 52 mm (with bracket)

Key Features:
Triple Fan Design
2.7-slot Design
Stylish Metal Backplate
0dB Silent Cooling
ASRock Tweak
AMD Eyefinity Technology
AMD FreeSync

Radeon RX 5700 XT Challenger Pro 8G OC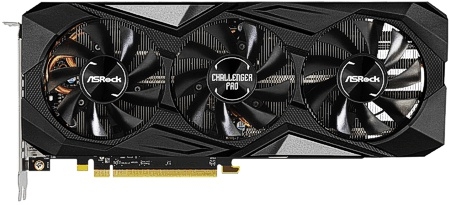 Triple Fan Design
Triple fan design helps to optimize system cooling to reduce the operating temperature.




Stylish Metal Backplate
With the Phantom Gaming look, the stylish metal backplate on the Phantom Gaming graphics cards makes it more fancy in visual and solid in construction. Otherwise, the thermal pad at the backside also helps to enhance the thermal efficiency.




2.7-slot Design
Provides more area for the larger heat-sink to enhances the thermal capability to make the graphics card cooler and quieter.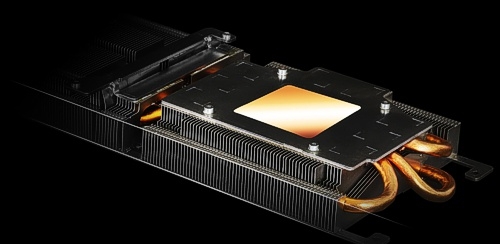 0dB Silent Cooling
Makes the fan stop when the temperature goes low for the complete silence.




ASRock Tweak
Provides the smart fan speed control and instant performance tweaking.




New Extreme RDNA Architecture
The Radeon RX 5000 Series GPUs are powered by the new RDNA architecture, the heart of AMD's advanced 7nm technology process. RDNA features up to 40 completely redesigned Compute Units delivering incredible performance and up to 4x IPC improvements, new instructions better suited for visual effects such as volumetric lighting, blur effects, and depth of field, and multi-level cache hierarchy for greatly reduced latency and highly responsive gaming.




Armed with More Bandwidth
Radeon RX 5000 series features PCI Express 4.0 support, with a throughput of 16 GT/s and enables two times the bandwidth compared to PCI Express 3.0. Get ready for the next generation of PC gaming.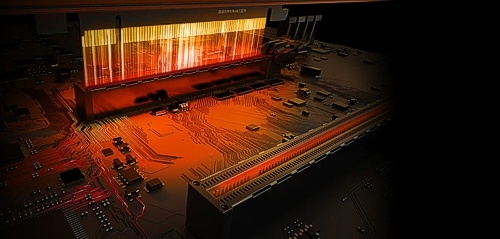 8GB 256-bit GDDR6
Equipped with 8GB of advanced GDDR6 memory to provide high bandwidth of up to 448 GB/s, enabling 1440p performance for today's most demanding games.




AMD Eyefinity Technology
AMD Eyefinity technology expands the traditional limits of desktop computing by multiplying your screen area. With multiple monitors, games become more immersive, workstations become more useful and you become more productive.




8K Resolution Support
Not only can it handles 4K graphics but also supports the next generation 8K video output for the ultimate visual experience.


Radeon™ Image Sharpening
Radeon Image Sharpening combines contrast-adaptive sharpening with GPU upscaling to deliver crisp and detailed visuals with virtually no performance impact. Now with DirectX® 9, 11, and 12 support.




Game Fidelity, Accelerated
The AMD Radeon™ RX 5000 series graphics card powers high-fidelity gaming for immersive explosions, physics, and lighting effects, bringing realism to life. The RDNA architecture was engineered to greatly enhance features like FidelityFX, Radeon™ Image Sharpening, and Integer Display Scaling6 for maximum performance and beautiful gaming experiences.




No Stuttering. No Tearing. Just Gaming.
Radeon Freesync* and FreeSync 2 HDR** take full advantage of Radeon RX 5000 series, bringing gamers the best stutter and tear-free gaming experience with higher refresh rates, lower latency, and 10-bit HDR, available on over 700 monitors.



*Radeon FreeSync technology requires a monitor and AMD Radeon™ graphics, both with FreeSync support. See www.amd.com/freesync for complete details. Confirm capability with your system manufacturer before purchase. GD-127
**FreeSync 2 HDR does not require HDR capable monitors; driver can set monitor in native mode when FreeSync 2 HDR supported HDR content is detected. Otherwise, HDR content requires that the system be configured with a fully HDR-ready content chain, including: graphics card, graphics driver and application. Video content must be graded in HDR and viewed with an HDR-ready player. Windowed mode content requires operating system support. GD-105

AMD Radeon™ Software Adrenalin 2020 Edition
The latest Radeon™ Software Adrenalin 2020 Edition introduces a completely redesigned user experience unleashing the full potential of your GPU, with day-0 drivers optimized for new game releases and a highly customizable gaming experience.




Specifications

Graphics Engine: AMD Radeon RX 5700 XT
Bus Standard: PCI Express 4.0
DirectX: 12
OpenGL: 4.6
Memory: GDDR6 8GB

Engine Clock
Boost Clock: 1905 MHz
Game Clock: 1795 MHz
Base Clock: 1650 MHz

Stream Processors: 2560
Memory Clock: 14 Gbps
Memory Bus: 256-bit
Resolution: 8K HDR 60 Hz

Interface
1 x HDMI 2.0b
3 x DisplayPort 1.4 with DSC 1.2a

HDCP: Yes
Multi-View: 4
Recommended PSU: 650W or above
Power Connector: 2 x 8-Pin
Accessories: Quick Start Guide

Dimensions
279 x 118 x 52 mm (without bracket)
291 x 133 x 52 mm (with bracket)

















































Questions:
There are no product questions yet.
Please login to your account to post a question
Leave a comment