Customers Who Bought This Item Also Bought
select all
AMD Ryzen 7 2700X Gen2 8 Core AM4 CPU / Processor with RGB Wraith Prism Cooler
AMD Ryzen 7 2700X, AM4, Zen+, 8 Core, 16 Thread, 3.7GHz, 4.35GHz Turbo, 20MB Cache, 105W, CPU, Retail + Wraith Prism
Manufacturers Code: YD270XBGAFBOX
EAN: 0730143309202


Ryzen 7 2700X - YD270XBGAFBOX
8 Core, 16 Thread
3.7GHz, 4.35GHz Turbo
RGB Wraith Prism Cooler

Gen2 Ryzen 7 2700X Processor with RGB Wraith Prism Cooler


2nd Generation AMD Ryzen 7

The Ryzen 7 2700X Gen2 can provide you faster and smoother computing experiences. Allow Ryzen to power your experience and be prepared to dominate tasks both in-game and out. Driven into existence by the user's passion AMD have forged a processor with the performance power to dominate your favourite applications, games and more.


Experience AMD CPU Potential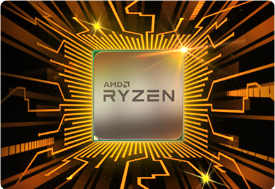 Zen+ on Gen 2 Ryzen

The 2nd Gen. 2000 Series AMD Ryzen processors build on the phenomenal performance the world witnessed with the legendary 14nm 'Zen' Architecture, by moving to a smaller fabrication process to deliver more efficient chips, running faster & cooler, while infusing the latest innovative technologies from AMD. This 12nm 'Zen+' Architecture at the heart of Ryzen 2nd Gen. CPUs, allows AMD to deliver some the best performing processors, ever.

Stylish AMD CPU Cooler




AMD Wraith Cooling for Socket AM4

AMD have stepped up the ante with a whole new line of AMD Wraith Coolers for the Ryzen 2000 processors. This 2600 AMD CPU comes free with the RGB Wraith-Prism cooler that features near-silent acoustics coupled with capable thermal performance. This cooler features a configurable RGB LED illumination so your Ryzen processor looks as good as it performs.

Optimised Motherboard Compatibility




X470 Motherboard Optimised

The 2nd Gen. AMD Ryzen processors using 'Zen+' are optimised for use with the brand new X470 motherboard platform, allowing users to take advantage of all the improvements & new technologies packed into the ultra-small 12nm CPU die.

Compatible with Existing AM4 Motherboards*

Already have an AM4 Motherboard, or don't need all the features of the X470? Don't sweat. AMD AM4 Motherboards shipping now with the 'AMD Ryzen Desktop 2000 Ready' badge on the box are guaranteed to be compatible, while many motherboard manufacturers are offering BIOS updates to enable support on previously purchased motherboards*. Once you know your AM4 motherboard is compatible, or you have installed your BIOS update, installation is the same as any other Ryzen 3, 5 or 7 Processor. Even better – cooler compatibility is the same too!
*Please look for the 'AMD Ryzen Desktop 2000 Ready' badge, or check with your motherboard manufacturer to find out if a BIOS update is available & required for compatibility with the AMD Ryzen 2000 Series CPUs.


Ryzen Processor SenseMI Tech

Pure Power
Smart energy monitoring along the progressive 14nm FinFET architecture.

Precision Boost
Adjust your clock speeds to accelerate the applications and games you utilise.

Smart Prefetch
Complex prediction of the data needed for your applications.

Neural Net Prediction
True machine intelligence to anticipate the performance needs of your applications.

Extended Frequency Range
Using a combination of temperature and power sensors Ryzen CPUs can overclock themselves to unlock even more performance.

Socket AM4
AMD Ryzen CPUs require a new Socket AM4 motherboard. Choose from a variety of chipsets, including AMD X370, B350 and A320.

Specification:

Model & Type
CPU Type AMD Ryzen™ 7
CPU Model 2700X
Socket AM4
Architecture Zen+
Manufacturing Process 12 nm

Cores & Clocks
No. of Cores 8 Core
No. of Threads 16
Clock Speed 3.7 GHz
Turbo Speed 4.35 GHz
Turbo Speed (On 1 Core)
Unlocked CPU Yes

Bus Speeds
FSB/HT Speed

Memory Support
Max. Memory Size 64 GB
Max. Memory Speed DDR4 - 2933
Max. Memory Channels Dual (2)
ECC Memory Support No

Lanes & Features
Scalability 1 Socket/Processor ONLY
PCIe Lanes Supported 16

Integrated Graphics
Features Integrated Graphics No
Integrated Graphics Model/Type N/A
iGPU Compute Units N/A
iGPU Cores/Streams N/A
iGPU Clock N/A

CPU Cache
L1 Cache
L2 Cache
L3 Cache
Smart Prefetch Cache 20MB

Thermals & Package
Max. TDP 105W
Thermal Specification
Heatsink/Cooler Included? Wraith PRISM Active Fan Air Cooler with RGB LEDs
Package Type Retail

Additional Information
Model Number YD270XBGAFBOX
GTIN 730143309202



Questions:
There are no product questions yet.
Please login to your account to post a question
Leave a comment